Wales' Manon Carpenter downbeat on World Cup series title hopes
Last updated on .From the section Wales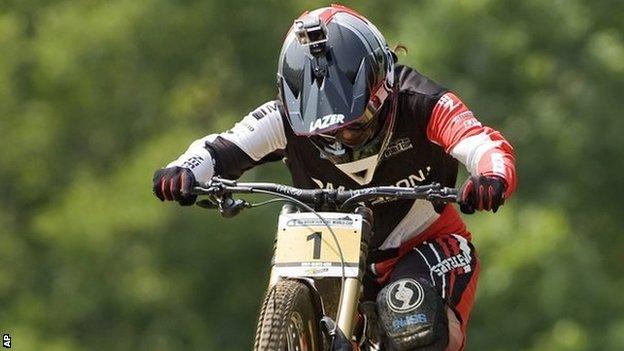 Defending champion Manon Carpenter concedes her World Cup Mountain Bike Downhill Series title hopes are realistically over.
But in the latest round of the World Cup in Austria the 22-year-old was disqualified after misjudging her landing on the final jump and riding off course.
"It will be hard for the title now unfortunately," Carpenter said.
"The points aren't looking great but it kind of means I can go for the win at every round I guess.
"There's not like I've got the title chase to lose now. You can't give up but the overall title would be quite ambitious."
Rachel Atherton and Tahnee Seagrave secured a British one-two at Leogang in Austria.
Atherton leads the World Cup standings with 670 points, followed by Emmeline Ragot of France and Seagrave.
Carpenter's disqualification came after she finished fourth in the previous round at Fort William, Scotland, following a late crash.
"I've had a run of bad results," Caerphilly's Carpenter added.
"Maybe my head still wasn't quite together after the crash in round two.
"I knew as soon as I crossed the line I would be disqualified. It was a massive disappointment
"It's quite a long weekend and you have your practice and a few days working putting everything together so for that to happen close to the finish line wasn't great.
"I have two weeks now to gather my thoughts and hopefully everything that could have gone wrong has gone wrong and is out of the way now."