Rio 2016: Hannah Mills and Saskia Clarke geared up for Olympics
Last updated on .From the section Wales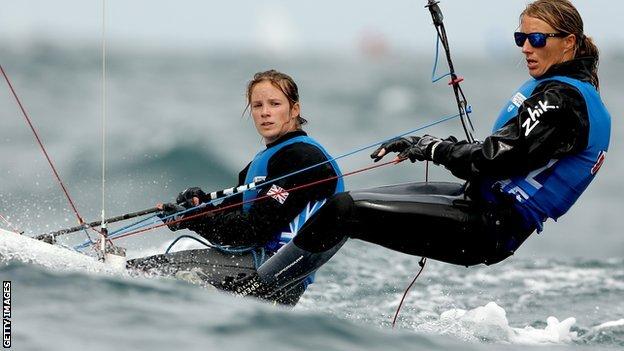 Olympic silver medallist Hannah Mills is confident her and 470 class partner Saskia Clarke are going in the right direction ahead of the Rio Games.
The pair won silver at London 2012 and are now focused on Rio.
"It's about making sure we're achieving our goals along the way to make sure when we get to the start line in Rio we're where we need to be," Mills said.
"Sometimes that means trialling different equipment at different events to see if it's faster or not against our competitors and you might have a few dips along the way.
"But we'll have a few other regattas that we'll be trying to peak for and win before the Olympics."
Cardiff-born Mills, 27, and 35-year-old Clark won bronze at the World Championships in Santander, Spain in September to qualify their boat in the 470 class for Rio 2016.
They will be part of a Great Britain team taking part in an Olympic test event in Rio this August and Mills says the trip will prove a useful exercise.
"It's going to be exactly a year before the Games so it's a really good time for us to get out there and see what the conditions are like and race against the other top people," Mills added.