Elinor Barker excited by Women's Tour of Britain debut
Last updated on .From the section Wales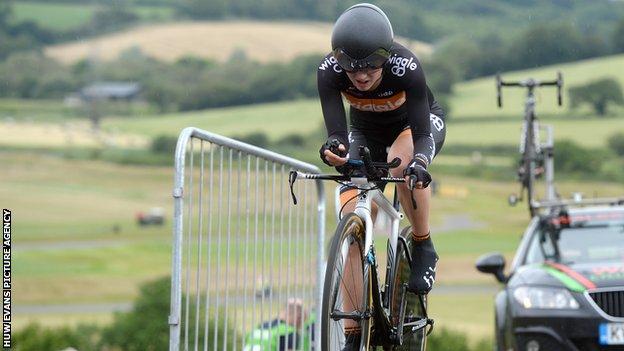 Elinor Barker is in the best road race form of her life and is eager to make her Women's Tour of Britain debut.
The Welsh cyclist, 20, will compete for Matrix Fitness alongside two-time Olympic champion Laura Trott, her Great Britain track team pursuit squad-mate.
The Tour runs from 17-21 June over five stages, beginning in Bury St Edmunds and ending in Hemel Hempstead.
"I didn't get picked last year so I had to watch it on TV, but it just looked absolutely incredible," Barker said.
"I was so jealous of everyone taking part, so I'm really excited to be in it this year and to experience it first-hand.
Cardiff-born Barker is a World and European champion on the track, but this season has improved her form on the road.
"It's been the year that I've not had any kind of distraction," Barker told BBC Radio Wales Sport.
"The first year that I was a senior I was still in school, so my summer was broken up by exams and I didn't really get much of a road season.
"Then last year it was the Commonwealth Games and I was really aiming for the track, so the road was pretty intermittent again.
"This year I've been able to give it my all and go into the races with the road races being the goals themselves."
However, despite this year's emphasis on road racing, Barker says her first love remains the track - especially with the 2016 Rio Olympic Games looming on the horizon.
"The road is really there for me to help with the training for the track, it's something to keep you motivated when the track season is not on," Barker added.
"It's nice to have things to aim for but it's not the be all and end all for my career.
"The track is where I want to get my results from really."
Katie Curtis and Ciara Horne are the two other Welsh cyclists on the Tour.