European Games 2015: Jade Jones eyes Rio after Baku win
Last updated on .From the section Wales
Olympic and new European Games taekwondo champion Jade Jones says she still has more to come ahead of the Rio Olympics in 2016.
Jones is excited to see how good she can be at next year's Olympic Games.
"I've got to concentrate on improving and being the very best I can be in Rio," Jones said.
"I feel like I have so much more I can improve, mentally and physically.
"I'm excited to see what sort of form I can get in for Rio.
"I'll keep going to the competitions and keep ticking away with points but I'm in a really good place for qualification."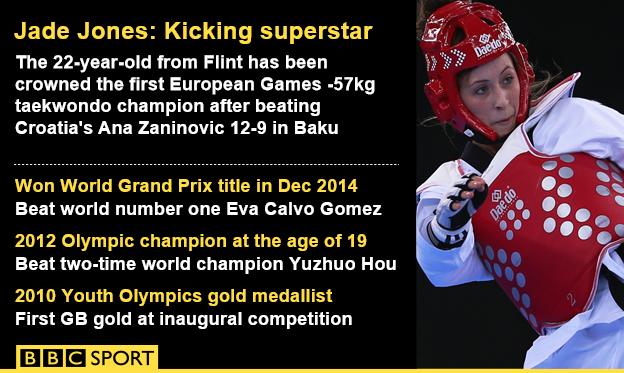 Jones, from Flint in north Wales, secured Britain's third gold medal of the inaugural European Games.
Prior to the competition, Jones admitted she had struggled with the expectations of being Olympic champion.
Victory over Zaninovic in Baku came after Jones missed out on a medal at the World Taekwondo Championships in Russia.
She lost to Iranian Kimia Zenoorin in the quarter-finals amid controversy when the electronic scoring system froze.
"I was devastated after the World Championships, especially feeling in such good form going in," Jones told BBC Radio Wales' Good Morning Wales.
"But I got straight back into training and I tried not to dwell on it too much and the hard training paid off.
"I've got to keep training hard and keep improving.
"It's the best feeling in the world waking up and seeing the gold medal at the side of your bed."