Golfer Becky Morgan still aims for the top aged 40
By Dafydd Pritchard
BBC Wales Sport
Last updated on .From the section Wales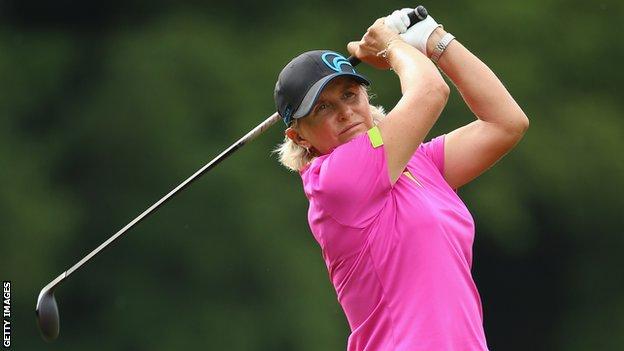 Having amassed millions in prize money during a 15-year career, Welsh golfer Becky Morgan could be forgiven for wanting to wind down.
She admits life is "tough" as a 40-year-old competing against precociously talented players half her age on the Ladies Professional Golf Association Tour.
But Morgan, who has played on the United States-based LPGA Tour for a decade, is showing no signs of slowing down.
"The States is challenging. There's strength in depth through the field." she says.
"The tour there is really strong and the last few years I've struggled a little bit, so I'd like to get my form back up there but it's tough.
"I don't feel that old but I play with some girls and I could potentially be their mother. It's really disturbing!"
Welsh roots
Born in Abergavenny, Morgan enjoyed a successful amateur career before turning professional in 2000.
She went on to claim numerous top-10 finishes on the Ladies European Tour, and only narrowly missed out on a place in Europe's team for the 2003 Solheim Cup.
Since then, Morgan has spent the majority of her time at her training base in Florida and competing on the LPGA Tour.
Although her consistency has seen her claim many more top-10 finishes, Morgan has yet to win a major title.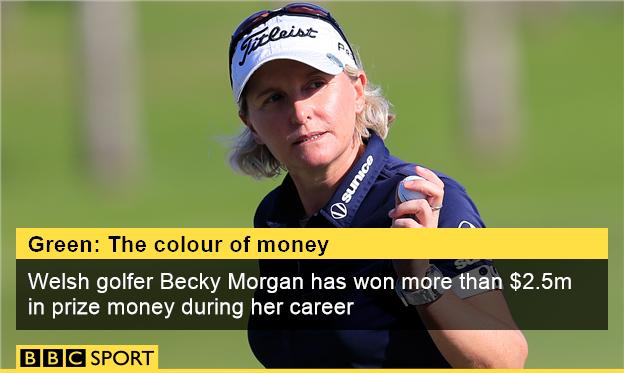 "I've had a couple of second [placed finished] but it's just really tough to win out there," she says.
"If I was ever going to win, I would have more of a chance of winning on the European Tour.
"I love the States and I would play there as long as I can but, depending on what happens, I would consider playing in Europe again if I had to.
"But if I had the choice I would stay in the States."
American accent
Morgan's fondness for her adopted homeland is clear and, having spent a decade in the United States, her accent has developed an American twang.
She was back on British soil for the European Masters at the Buckinghamshire Golf Club at the beginning of July.
And although the trans-Atlantic trek can be a little tiring, Morgan enjoys competing on familiar ground.
"I've lived there for just over 10 years so my life is based in the States but it's always nice to come home," she adds.
"I don't feel that old so I'd like to keep playing for at least the next five years."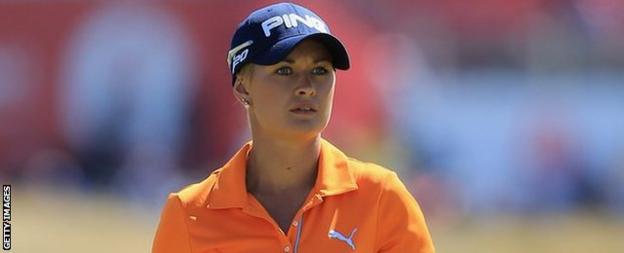 Welsh golf's future
While Morgan is eager to prolong her own career, she is encouraged to see the next crop of Welsh golfers coming through.
Amy Boulden, 22, won the Ladies European Tour Rookie of the Year award in 2014 and has been in contention for a place in the Solheim Cup.
Although Boulden's aspirations of being included in this year's team are slim, Morgan thinks the Llandudno-born player has a bright future.
"She [Boulden] has obviously got the talent and the determination to do it," says Morgan.
"She's probably going to be the leading Welsh player for a long time."