Ashes 2015: Graeme Swann says Cardiff critics are ill-informed
Last updated on .From the section Wales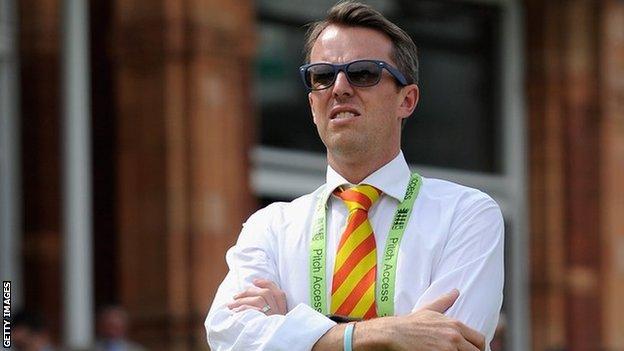 Former England off-spinner Graeme Swann has defended the opening 2015 Ashes Test wicket at Cardiff.
Ex-England captain Michael Vaughan described it as "very, very poor" while England batsman Joe Root said he had no issue.
"The criticism is completely unfounded. Look at how many runs have been scored," Swann told BBC Radio Wales.
England go into the fourth day having set Australia a 412 run target to win, with Swann adding that the venue and its wicket have been "brilliant".
He said: "There's a bit of turn. It's not quick and bouncy - this is England playing, this is Cardiff - there's never a quick and bouncy pitch.
"Those people who think it's been doctored to be purposely slow are ill-informed, I'm afraid.
"If they can ever go back in the annals of Glamorgan history here and find me a quick wicket, I'll eat my hat."
Swann, who played a key role for England when they won the Ashes in 2009, also believes the wicket is unlikely to deteriorate.
"It's a great venue, he said. "The crowd is quite close - I think Henry Blofeld called it a "wonderful cockpit for cricket".
"It's brilliant from a supporter's point of view and they reflect that in the support they show for England."