Tour de France 2015: Thomas can lead Team Sky - Brailsford
Last updated on .From the section Wales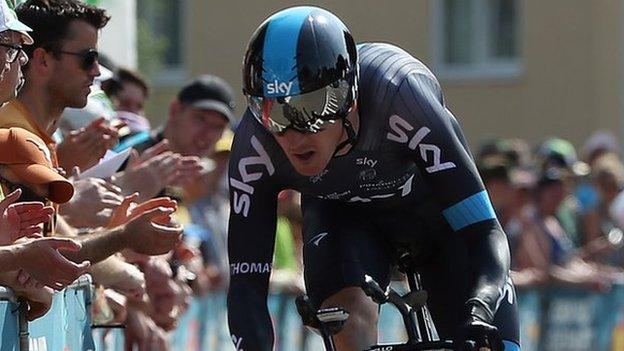 Team Sky boss Sir Dave Brailsford has hinted Geraint Thomas could be given the chance to be a grand tour leader.
Brailsford says fellow Welshman Thomas has been "one of the best riders" in the 2015 Tour de France in support of race leader Chris Froome.
Thomas leading Team Sky at Spain's Vuelta or the Giro D'Italia would be the next logical step, says Brailsford.
"To keep progressing in the world tour stage races, then he can take the step up," he added.
"Hopefully he can because he's a brilliant rider."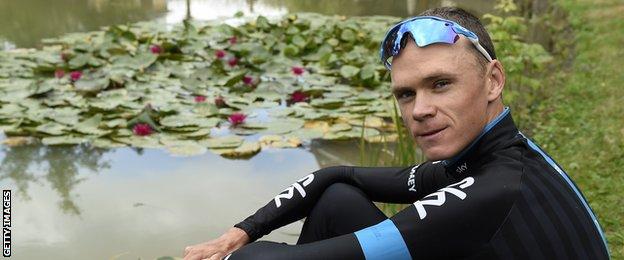 Brailsford says "role model" Thomas's all-round ability means he "could lead other teams" at the Tour de France.
However, the Cardiff-bred rider's task in helping 2013 Tour winner Froome regain the title is Thomas's priority.
"The brilliant thing about Geraint is he will say he is there for Froomey and he means it," said Brailsford.
"And there's no ifs or buts and everybody else knows he means it and he's a fantastic asset to have on a team.
"But if you've got those kind of guys you've got to give them opportunities.
"So unless they get a little opportunity themselves then they wouldn't be as willing at this moment in time to commit totally to Froomey.
"So I think it's a bit more of a juggling act, really."
Brailsford was asked if Thomas would soon have the chance to lead at a Grand Tour.
He replied: "If he gets to be good enough, then yeah.
"He's got to be better than everybody else. You couldn't bring Geraint here if Froomey was better than him and say 'Geraint's the leader' - the whole structure of the team would collapse.
"So the group dynamic has got to be right and they've got to believe in the person who's going well and that's got to be the best guy, really."