Netball World Cup: Wales squad boosted by rookie and romance
By Bruce Pope
BBC Sport Wales
Last updated on .From the section Wales
Wales enter the 2015 Netball World Cup in Sydney, Australia, aiming to make their mark among the world's best.
Hosts and defending champions Australia start as favourites to claim their 11th title from the 14 tournaments to be held since 1963.
Wales begin their campaign against Fiji - ranked one place ahead of them in the world in seventh - on Friday, 7 August, before two more Pool D games against Zambia and Uganda.
Trish Wilcox's side will expect to finish in the top two and qualify among the first eight for the next stage of qualification round matches.
That should see Wales mixing it with Australia, New Zealand, South Africa, Jamaica and home rivals England - who Wales lost to in a warm-up match in Merthyr Tydfil earlier in July - for a place in the semi-finals.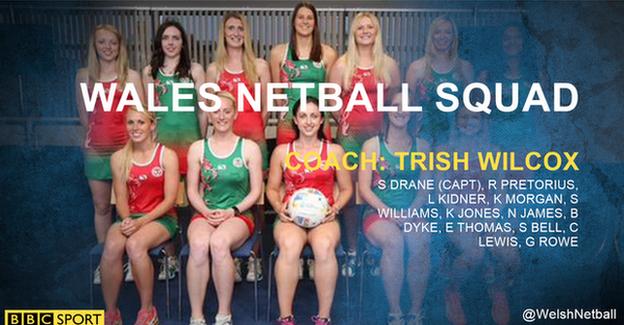 Wales head down under on Friday for a final training camp in Tasmania, where they will play three warm-up games against an Australian Centre of Excellence side on 30 July, Scotland on 1 August and Tassie Spirit on 3 August.
The side is led by 28-year-old centre or wing-defence Suzy Drane, who was joint captain when Wales finished ninth in the 2011 World Cup in Singapore, and also led the side at the 2014 Commonwealth Games in Glasgow where they finished eighth.
Drane's vice-captain is goalkeeper or goal-defence Rosie Pretorius, also 28, the wife of former Cardiff Blues and Wales rugby player Andries.
The 12-strong squad can boast 301 caps between them, with Chelsea Lewis, Nicola James, Stephanie Williams and Emma Thomas the other players with previous World Cup experience.
Two relative newcomers to the senior squad are Georgia Rowe and Kyra Jones: one entering her first major tournament thanks to an eagle-eyed parent and the other representing Wales after a chance meeting with a charming stranger.
The Rookie
Goal-shooter and goal-keeper Rowe, 19, might not be heading for a World Cup if her father, Gary, had not spotted former Wales coach Melissa Hyndman driving past one day in her official Wales Netball car.
A contact number was hastily scribbled down, a trial arranged and Rowe, then 16, began the rise that saw her play for Wales at Under-19 and Under-21 level before selection for the Celtic Dragons Super League squad in 2013.
"My dad had always said to me that he wanted me to be involved in some sport because I'm so tall," Rowe said.
"He saw her car go past, rang the number and literally I just went down and it started from then."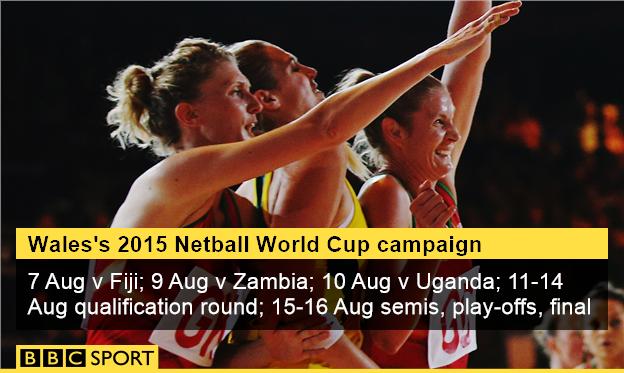 The 6ft 5in youngster from Crosskeys College made it down to the last 15 players for the 2014 Commonwealth Games squad, but just failed to make the final cut of 12 who headed to Glasgow.
"I was disappointed, I was gutted. I'd worked really, really hard to be a part of it," she said.
"But I had only been playing for a few years and I felt so honoured and lucky to even be considered for it."
Now - just over three years from taking up netball seriously - Rowe has won the opportunity to represent her country at a major tournament and is eager for the World Cup to start.
"It means so much to me. I've only been playing netball three years so I never thought I'd be in this position," she added.
"I've learnt so much already... everyone has been so supportive so I'm doing it for them and also myself."
The Romantic
Wing-defence or centre Kyra Jones, 27, was brought up in Perth, Western Australia, and made her name in netball with Perth Orioles, winning the Jill McIntosh Award for the best player in the West Australian Netball League in 2006.
But when she came to Wales to play for Celtic Dragons in the Netball Super League the name on her passport was Neal.
The reason for that is soon after arriving in Cardiff she met a Welshman named Scott Jones and the pair hit it off immediately.
"I was the import player for Celtic Dragons in 2009; they put me up in Sport Wales [National Centre] and he was working there," Jones said.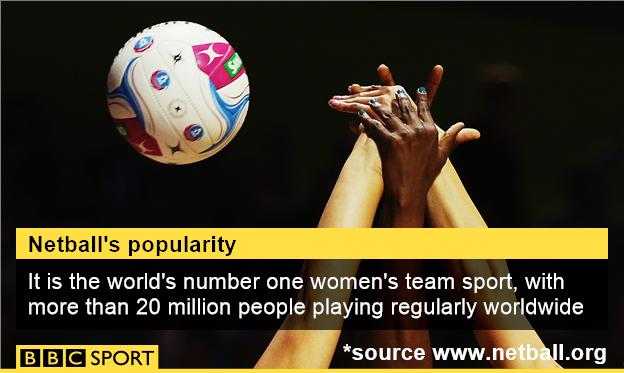 "He kind of felt a bit sorry for me because I was by myself, we started chatting and then things went on from there - he proposed to me after four weeks."
Once Jones - whose parents are both English - decided to make her home here, it was only a matter of time before she made her Wales debut.
Her first cap came against Northern Ireland in the 2012 Netball Europe campaign and she has gone on to represent her adopted country 26 times.
Now Jones gets to return to Australia for the World Cup, with her Perth roots promising that Wales will have some extra supporters during games.
"We'll head to Tazzy [Tasmania], we've got a couple of warm-up games there before we head into the big competition of the World Cup," she said.
"I've had a lot of texts and phone calls from mum, she's telling me that there's so many people coming over that can't wait to see me play so I'm a little bit excited about that.
"I can't wait, it's going home!"