2015 Netball World Cup: Drane talks hard work and lucky thread

By Suzy Drane
Wales Netball captain
Last updated on .From the section Wales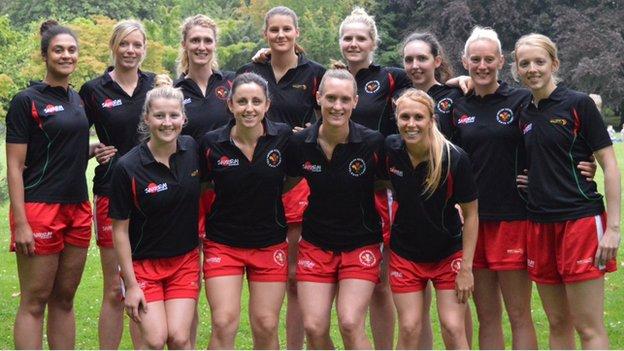 2015 Netball World Cup
Venue:
Sydney Olympic Park, Sydney, Australia
Date:
7-16 August
Coverage:
Updates and daily reports on the BBC Sport website.
In her 2015 Netball World Cup column for the BBC Wales Sport website, Wales captain Suzy Drane looks ahead to the tournament, assesses the task facing them and reveals how the team's preparations have gone.
Centre or wing-defence Drane, 28, is a lecturer in Sport Development and Performance Sport at Cardiff Met University and has won 66 caps for her country.
It was manic, finishing off tying up loose ends at uni for the day job and then the packing, making sure my case was under the weight limit.
I've taken some pictures from home with me and I'm really fortunate to have received quite a lot of good-luck cards. It's something I can read through if I need to. It keeps your feet on the ground, keeps you real and reminds you of why you're there and who you're there for, why you started playing netball in the first place.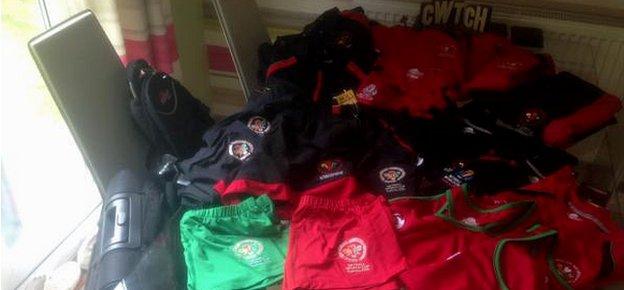 We also had to take some of the physio kit and performance analysis kit in our bags too.
I've labelled all my kit because there's 12 girls and kit can often get swapped or go missing, your top often doesn't end up with you after a wash.
Everyone knows I've got red cotton sewn on my kit. In my first year of playing for Wales seniors that was the only colour that was left.
Over the years I've kept that same colour thread and, touch wood, it's served me well so let's hope it continues down in the southern hemisphere.
Turning Aussies into Welshies
I think we're all pretty excited now, we've done the final preparation here and we can't wait to get on the court in Sydney and start the job.
The tough work begins in Australia but it's the most enjoyable part as well.
There's 12 lucky people that have got to go; we left a few behind which is obviously sad because they've been in training with us and they've been pushing us.
But they are on standby and if anyone was to get injured then they'll be flown out.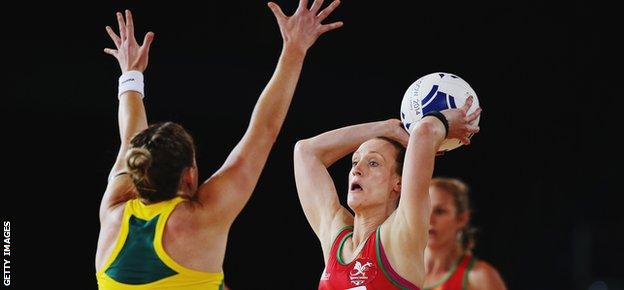 We'll be making sure that we make them proud as well as everyone else at home that can't come and show their support.
But as well as our travelling fans, I've got a sneaky feeling that we're going to have quite a few Aussie-come-Welshies cheering us on.
Centre or wing-defence Kyra Jones's family are from Perth and they're coming down to watch and we're all really excited to meet them.
I hear they're coming down in truckloads, which we welcome because as Welshies we like to adopt people and hopefully they'll adopt us as their team!
So that's what we're saying: "Please don a Welsh red shirt and come down and support us."
A few of the other girls have got family out there too, so they're going to be showing us round Sydney.
Targeting top spot and taming nerves
We're looking at the opening group stage first - where we face Fiji, Zambia and Uganda - and we want to top our group, or at least come top two.
Ideally we want to look at that top position and then we'll revaluate as soon as we get through there.
Putting a specific finishing position on that adds pressure at this stage that is unnecessary. So we're looking to get through the first group stage and then revaluate who we've got and what our targets are from then on in that second group stage.
We've got three warm-up games - against an Australian Centre of Excellence side, Scotland and Tassie Spirit - so we'll be looking at the styles that we as Wales need to play in order to combat the styles that we're going to come up against in that first group round.
We'll be looking to take the momentum from those warm-up games into that first game against Fiji on 7 August.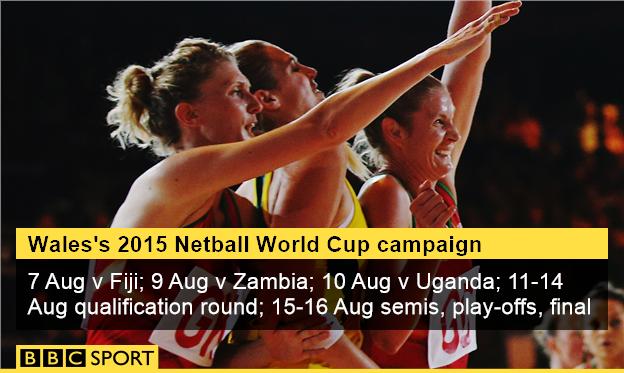 We'll be looking to make sure we put out a full performance in that first World Cup game. We'll be excited - as will everyone - so we'll be making sure we keep the nerves under control and everyone focussed.
We're a tenacious team, we really don't stop until the final whistle and that showed four years ago at the World Cup in Singapore, when we were down by 12 going into the last quarter and we beat Samoa by one point.
We will be playing a lot of games in a short space of time in Sydney but it was the same at the Commonwealth Games not so long ago, a year, and we also had Netball Europe - our European championships - most recently in May.
We had five games in four days there and we coped remarkably well with that. That was always going to be tough but actually was a really good decision by Netball Europe to do that this year and get the teams ready for the World Cup.
We're really close as a team and it's probably one of the most supportive and supported teams I've ever been in, which I hope will prove to be invaluable while we're over there.
Suzy Drane was speaking to BBC Wales Sport's Bruce Pope.