Dai Greene: Ex-World champion can bounce back - Scott Simpson
Last updated on .From the section Wales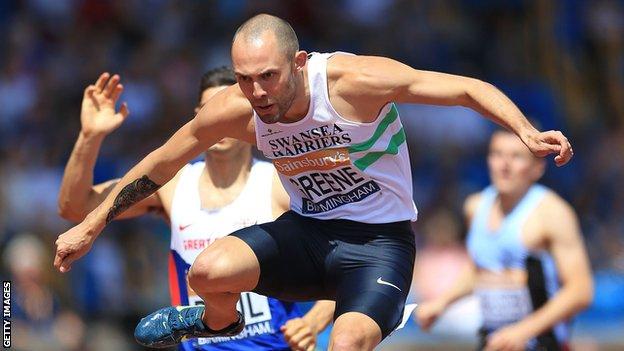 Welsh Athletics national coach Scott Simpson insists Dai Greene still has a future despite another injury affected season.
Simpson hopes the 29-year-old does not give up and will prove the doubters wrong at the 2016 Olympics.
"His mentality and resilience are some of his greatest strengths," he said.
"He's in a good place with good people around him and, if he can make some good decisions over the next 12 months, then we'll hopefully see him at another Olympics."
Greene enjoyed a golden period between 2010 and 2012, winning Commonwealth Games, European Championship and World Championship titles.
But the Welshman has been hampered by injuries ever since.
After finishing fourth in the London Olympics in 2012, he underwent three hernia operations in 2013 and has never been able to recapture that form.
Greene made his competitive start in the British Championships in Birmingham on 4 July when he was third.
In only his second race of the season, Greene failed to make the qualifying time for August's World Athletics Championship in Beijing after finishing fifth in the Anniversary Games in London.
Greene's appearance at the Olympic Stadium came a few days after he was hospitalised with suspected appendicitis.
Simpson, a former pole vaulter who represented Wales at the 2006 Commonwealth Games, said the Llanelli product had endured a difficult few years.
"I feel sorry for Dai, he's had a really bad run of luck," Simpson added.
"But one thing I do admire about him is his honesty and frankness.
"He's a true champion and a gentleman of the sport in the way that he conducts himself and is honest in his appraisal of his own performances.
"I truly hope that he goes on and does a few more races this summer and proves himself on what he can do.
"I hope he can move forward from his run on Saturday and push on from there. I hope this is a turning point for him.
"But it will be very disappointing for him and for us that he won't be representing GB in the World Championships again this year."