Scorpions player Paul Songhurst given four-year drugs ban
Last updated on .From the section Wales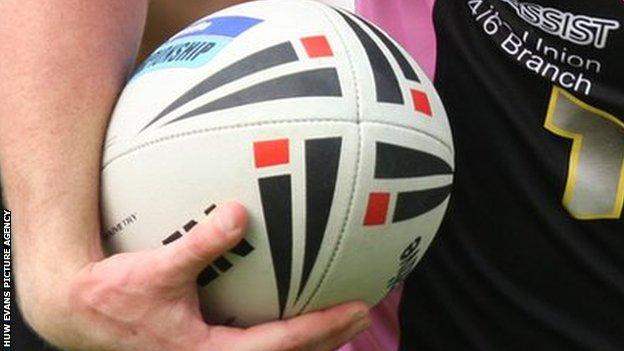 A Welsh Rugby League player has been banned after failing a drugs test.
South Wales Scorpions centre Paul Songhurst, 24, tested positive for the steroid drostanolone, following an out-of-competition test at a training session on 23 February 2015.
Songhurst, who is a former Wales Dragonheart international, is banned from competitive sport from 23 February 2015 to 22 February 2019.
He is the fourth Scorpions player to be banned in the past 12 months.
The others - Harry Cartwright,Ashley Bateman and Ross Bevan - are all serving two-year suspensions.
Songhurst is the third British sports competitor to be given a four-year ban following the introduction of more severe penalties under the 2015 World Anti-Doping code.
UK Anti-Doping's chief executive, Nicole Sapstead, said: "Intentional doping will not be tolerated at any level of sport.
"In a large participation sport, such as rugby league, we have anecdotal evidence which suggests that those who dope do so because they do not think that they will be tested and think they will never be caught.
"Not only do they cheat the team-mate who they have deprived of a place on the team, but they do not take into account the serious risk to their health and the damage they are doing to their bodies."
South Wales Scorpions issued a statement, saying: "We are aware that performance enhancing drug use is a serious problem in Welsh sport at the moment, especially in rugby, as was highlighted in the newspapers last week.
"We do not condone the use of drugs in sport and since the tests were made on our entire squad during pre-season, everyone in the club has had the appropriate education."