Jazz Carlin's bronze ends 'rollercoaster' week on high
Last updated on .From the section Wales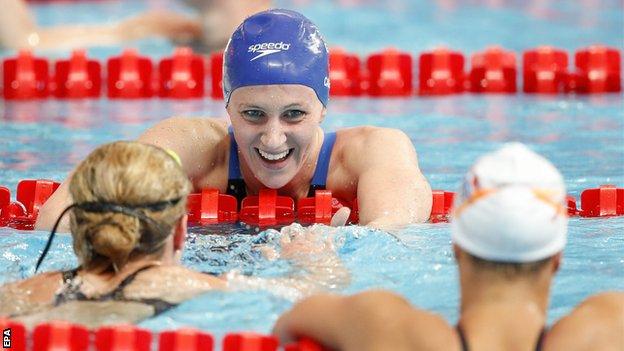 Jazz Carlin was delighted to at last claim an elusive individual World Championships medal after taking bronze in the 800m freestyle in Kazan, Russia.
The 24-year-old Welsh swimmer had finished fourth in the 400m freestyle on the opening night, just as she had in Barcelona two years ago.
"This week really has been an emotional rollercoaster," Carlin said.
"To come away with fourth place at the start of the week I had to pick myself up, get my head down."
American Katie Ledecky took gold in a new world record of eight minutes 7.39 seconds, knocking a huge four seconds off her own previous mark.
Carlin's time of 8:18.15 saw her finish less than a second behind silver medallist Lauren Boyle of New Zealand and her bronze also took Great Britain's tally to a record nine medals at a World Championships, with less than a year to go until the 2016 Rio Olympics.
"Obviously I'd love to be a bit higher and a bit quicker but to come away with a bronze medal at the end of the week, I'm over the moon," Carlin said.
"I've still got a lot to learn within the race. This is my first World Champs final in the 800 - I'm 24 years old so it's taken my quite a while!
"There's a lot to improve on, a lot to work on in training and it's about building on that [bronze] now.
"This is the World Championships and there's the Olympics. These are the bigger events and you're racing the best in the world, no-one has got anywhere to hide.
"When you're racing someone like Katie Ledecky on 8.07, I didn't realise how fast she was actually going so it's incredible.
"It's great to see she's doing so well and we've just got to start chasing up to her now."