2015 Netball World Cup: Drane's unbeaten Wales ready for big guns

By Suzy Drane
Wales netball captain
Last updated on .From the section Wales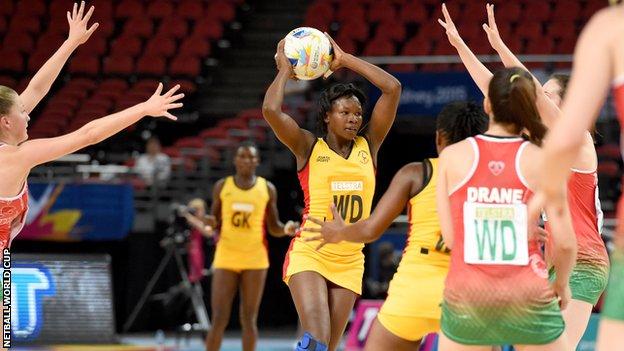 2015 Netball World Cup
Venue:
Sydney Olympic Park, Australia
Date:
7-16 August
Coverage:
Updates and daily reports on the BBC Sport website.
Results and fixtures
In her 2015 Netball World Cup column for the BBC Wales Sport website, Wales captain Suzy Drane reflects on their unbeaten start as they finished top of Pool D and looks ahead to a tough second phase.
Centre or wing-defence Drane, 28, is a lecturer in Sport Development and Performance Sport at Cardiff Met University and has won 68 caps for her country.
We're really pleased to have three wins out of three and to top the group, that's what we were coming out here to Australia for.
That was our first target and we always said we'd take each game as it comes in that first pool stage and reassess as soon as we made the second group stage.
Monday's game against Uganda, which we won 49-47, did get very close - we'd say it was a bit of a crowd-pleaser!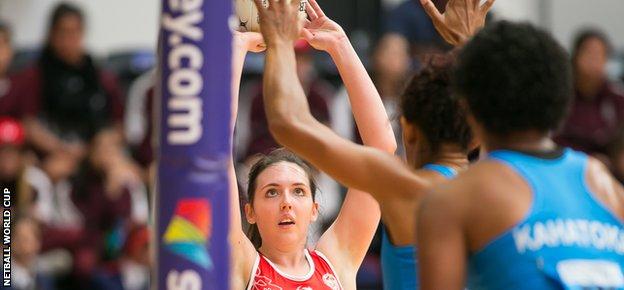 We need to make sure we stick to our process a little bit more and take it away from teams once we get a run on them, and not allow teams to come back into a game.
But a win's a win and we'll take that - we've had three good wins [59-52 over Fiji before beating Zambia 71-44 earlier in Pool D] but we've still got room to step up and we'll definitely be doing that against the top teams in the world.
We'll be learning valuable lessons and we'll also gain great experience of putting our game and our applications on the court against those teams.
There's no better experience for the Wales team and the players out here.
A pool against hosts Australia, England and South Africa couldn't get any tougher but that's what we were aiming for.
Wales' next fixtures

Tuesday, 11 August

v South Africa (Sydney) 0320 BST

Wednesday, 12 August

v England (Sydney) 0720 BST

Friday, 14 August

v Australia (Sydney) 1120 BST
We always knew that getting through we would be sitting in the top eight positions and that's the top of the world rankings, and therefore you have to play the best in the world.
That's the only way we're going to get even better and that's what we've done over the past eight to 10 months.
We've had good experiences against very good teams, with some valuable lessons learnt whatever the result.
But we'll be focusing very much on our performances in the next three games in this group stage two and then on into the ranking games after that.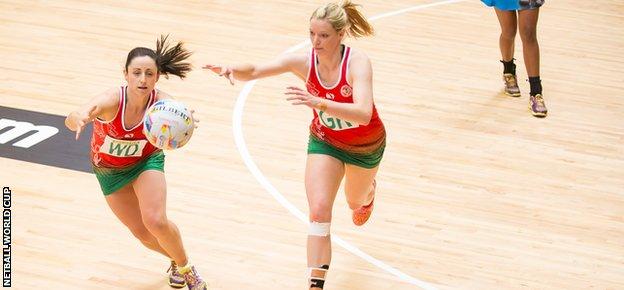 We've got South Africa first on Tuesday, so we have about 16 hours prep well and look at how we're going to pick them off and then move on to Australia and England.
We last played South Africa over in Belfast in the Netball Europe tournament so we do have more recent footage and experience on that, but we also obviously have some performance analysis from their games during the World Cup over here.
Our coaches and management will be looking intently at their game footage tonight and we'll be having team meetings in the morning to decide how we're going to take the game to them.
Myself and my vice-captain Rosie Pretorius did need a little bit of treatment during the Uganda game, but we've got 12 fit players and that's what you want at this stage in a tournament.
We're ready for the next game despite the quick turnaround, so it's all about recovery, eating, sleeping - getting any recovery strategies that we can then getting up, doing some prep and into the game at 12:20 our time - 03:20 your time!.
Suzy Drane was speaking to BBC Wales Sport's Aly Rowell.