Becky James tipped to make GB cycling team for Rio Olympics
Last updated on .From the section Wales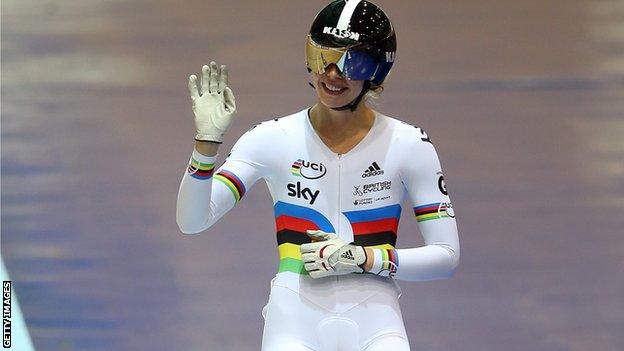 Becky James has been tipped to make it to the 2016 Rio Olympics despite missing the last 18 months with injury.
And British cycling technical director Shane Sutton says she has time to get back to her best before next summer.
"I've no doubt she can quickly make up the ground and get back to where she was a couple of years ago," he said.
"Given the technology and support team she's got around her, she can get back to where she was.
"But the game has also moved on. We need to find those gains in the other areas if we're going to be medal contenders.
"I'm sure the support team I've got around me can do their bit and it's up to Becky to do hers."
Silencing the 'fears and demons'
James, from Abergavenny, won silver and bronze for Wales at the Commonwealth Games in 2010, but came to international prominence at the 2013 Track World Championships.
She won golds in the keirin and sprint and also picked up bronze medals in the team sprint and 500m time trial in Minsk.
Since then her career has been curtailed by injury. She was expected to star at the Commonwealth Games in Glasgow 12 months ago but had to pull out because of a recurring knee problem. She then needed surgery on a long-standing shoulder problem.
Sutton revealed James is working with a sports psychologists to "put all those fears and demons behind her" but insists she is "not holding back" as she prepares to return to competitive racing in Derby.
"It's been very difficult, there's been many a tear on this journey, I can tell you," he said.
"But I saw her on the track the other day in full flight and, yes, she's a long way from where she was at World Championship level and she'll be apprehensive going into Derby.
"But it's just refreshing for everybody in that squad to see her back."