Ebor Handicap: Trainer's 'pride' after Litigant secures unlikely win
By Dewi Hughes
BBC Wales Sport
Last updated on .From the section Wales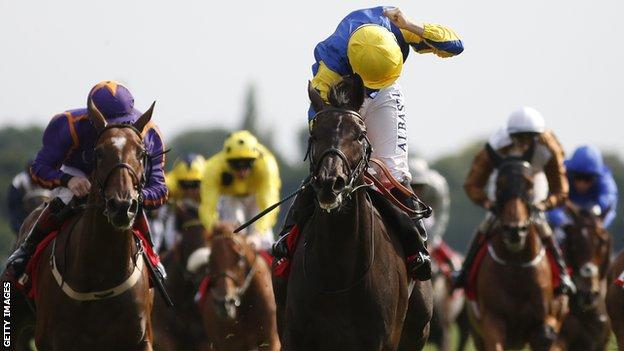 A retired steelworker from Port Talbot said he felt immense pride after a racehorse he nursed back from a serious injury won Europe's richest flat-racing handicap.
John Moore spent seven months treating Litigant at his stable last year.
The seven-year-old won the Ebor Handicap in York on Saturday as a 33-1 outsider in his first race for almost 500 days.
"It was tremendous to see him win. I felt a lot of pride" Moore said.
"The vets had said he would never see another race again. The satisfaction you get from doing something like this is amazing."
Spa treatment and river therapy
Litigant's unlikely victory at York came 491 days since his last outing, when he won on Good Friday at Lingfield Park in 2014 to claim his third success in four races.
But a serious tendon injury then came to light and he was sent by owner Tony Byrne to Moore's stable in Pyle, south Wales.
"We gave him some spa treatment and river therapy and he came on tremendously well," Moore told BBC Wales Sport.
"The treatment involved standing him in the river for an hour at a time but it's not as simple as that.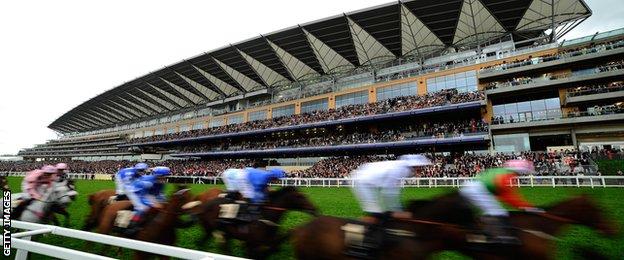 "They've got to have controlled exercises so that the tendon is still being used and not just healing over because if they don't use it the tendon will go again once they start exercising.
"But as long as you have the controlled exercise it will strengthen and in time will fill in the hole that's occurred."
After the long recuperation Litigant was sent to Lambourn to be trained by Irishman Joe Tuite.
Described by Tuite as a "delicate horse", it was a case of sink or swim to determine whether Litigant could race again and defy the original prognosis.
But the performance at York exceeded all expectations as jockey Oisin Murphy opened a decisive lead more than a furlong out to eventually win by a length-and-a-half in front of Wicklow Brave.
"It's a tremendous training feat as well because he hadn't raced for so long," added Moore, who turned to horse rehabilitation and training as a hobby in retirement.
"And it was nice for Tony [Byrne] to thank me on the television for putting the horse back together basically. I've had a lot of phone calls and texts since. It's been brilliant."
What's next for Litigant?
There are now two options being considered by Byrne and Tuite for Litigant's next outing.
He will either go in the Prix du Cadran at Longchamp, part of the Prix de l'Arc de Triomphe meeting in Paris in early October, or in the Champions Day at Ascot two weeks later.
Whatever the decision, Moore simply wishes his healing techniques will not be called upon again.
"Hopefully he'll never see our stables again," he said.
"We found one or two problems which we think may have caused the injury and, to be fair, Joe and Tony thanked us for it.
"They rectified it with the vet and it seems to have worked. Let's hope he has a long, successful and problem-free career."