Tennis: Evan Hoyt wins first singles title on ITF Futures circuit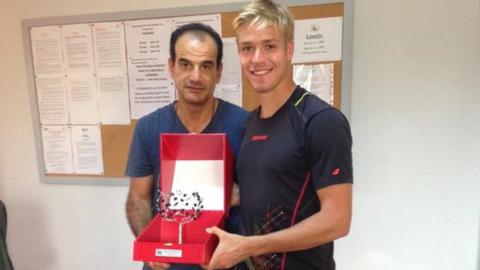 Wales' Evan Hoyt has won his first singles title on the International Tennis Federation circuit.
The 20-year-old from Llanelli beat Kevin Grieksport from the Netherlands to win the Sportevasion ITF Futures Summer Tour title in Tunisia.
He had already teamed up with Tunisia's Anis Ghorbel to clinch the doubles crown.
The ITF circuit is a development stage for players seeking to reach the main ATP World Tour and ATP Challenger Tour.
"This represents a great step up for Evan, having returned home to base himself in Wales for training," said Tennis Wales performance manager Ellinore Lightbody.
Hoyt, who was born in Mexico, practiced with Rafael Nadal before the Spaniard played Novak Djokovic in the 2011 men's singles final at Wimbledon.