Nathan Cleverly targets Andrzej Fonfara rematch
Last updated on .From the section Wales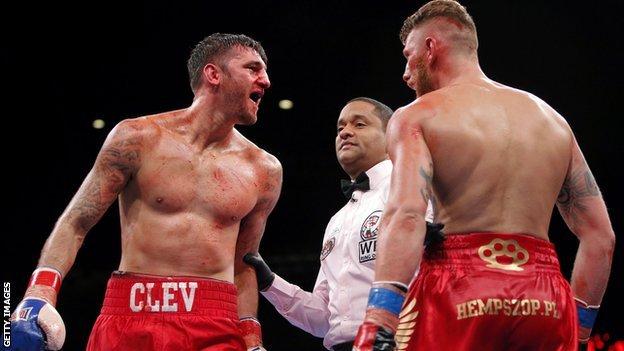 Boxer Nathan Cleverly has no plans to retire despite a third career loss, and wants a rematch with Andrzej Fonfara.
The 28-year-old, who lost for the third time in his past six bouts, said: "Respect to Fonfara, would love to do it again.
"It was a fantastic fight - I had a feeling that our styles were going to gel and that's what happened."
The bout, a possible step towards meeting WBA champion Jurgen Brahmer, broke records for most punches landed (936) and thrown (2,524) in a light-heavyweight fight since counting began.
Cleverly said: "It was a war from the very first bell and I am not surprised that it broke the records because when we started, we just didn't stop."
The former WBO champion said he had no argument with the outcome as Polish fighter Fonfara was given the decision 116-112, 116-112 and 115-113 in his adopted hometown.
"It has been a great experience over here in the US - it's a pretty hostile crowd but they all congratulated me after the fight," Cleverly added.
"Would I do it again? Why not - it's what we are here to do, put on entertaining fights for great fans, and I am sure there will be the demand for it."