Mike Davies: Welsh tennis innovator dies, aged 79
Last updated on .From the section Wales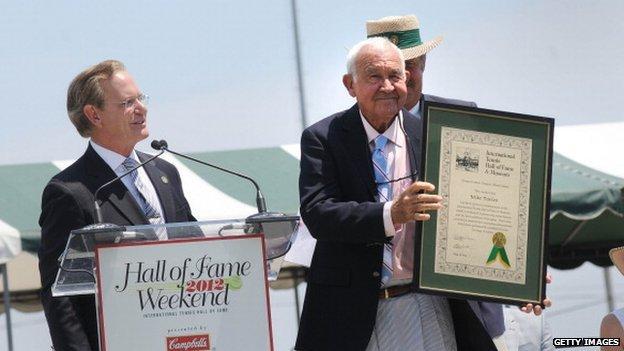 Mike Davies, the only Welshman to appear in a final at Wimbledon, has died at the age of 79 after an illness.
The former British number one is credited with modernising the game during his time as executive director at World Championship Tennis (WCT).
Davies, originally from Swansea, initiated the move from white to yellow tennis balls among other changes.
He and Bobby Wilson lost the 1960 Wimbledon doubles final in 1960 to Dennis Ralston and Rafael Osuna.
And Davies boasted a 24-13 record in Davis Cup from 1955-1960 and was inducted into the tennis Hall of Fame in 2012.
The International Tennis Federation, where he was a former general manager and marketing director, revealed Davies passed away on Monday "after a battle with illness".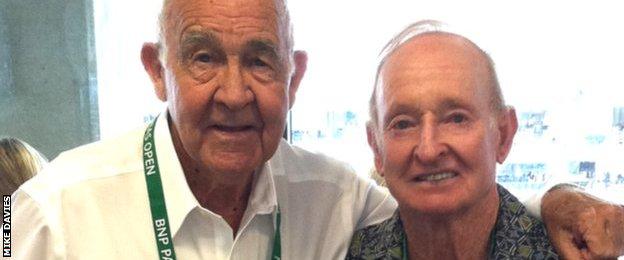 As well as reaching the final at Wimbledon, Davies was an Australian Open doubles semi-finalist in 1957.
He lived in Florida and was executive director of the ATP and head of the Pilot Pen tournament in New Haven.
And it was as an administrator that Davies had the biggest impact on the sport.
Speaking in 2014, he explained the motivation behind the switch to yellow tennis balls when he was with WCT - the professional circuit set-up during the sport's difficult transition from the amateur era.
"We were the first to get rid of the white ball because we were trying to get on television," he said.
"People were saying they had a lot of trouble following the white ball.
"Because we were playing on a blue indoor court, they said we should try orange but it evolved into a yellow tennis ball.
"It took 10 years for Wimbledon to do it after we did it."
Other innovations included the 30-second maximum time between points and the 90-second changeover every two games, which was introduced to allow commercials to be shown on TV.