Jamie Donaldson: Ryder Cup golfer injured by chainsaw
Last updated on .From the section Wales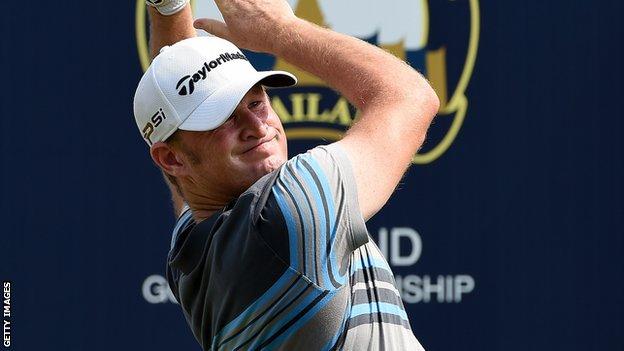 Welsh golfer Jamie Donaldson has been sidelined with a hand injury following an accident with a chainsaw.
The 40-year-old, who won the point that sealed the 2014 Ryder Cup for Europe, shared a picture of the nasty injury on Twitter.
Donaldson required stitches and is likely to be out of action until February's Dubai Desert Classic.
"So folks, in my time off decided to have a fight with a chainsaw and lost," Donaldson tweeted.
Pontypridd-born Donaldson, who was raised in Macclesfield, has three wins on the European Tour and won the Thailand Golf Championship on the Asian Tour in December.
The Welshman's manager, John Fay, said Donaldson had not suffered any tendon damage.
Donaldson will miss this week's Abu Dhabi Golf Championship - a tournament he won in 2013 - but could play in Singapore next week if given the all clear when the stitches are removed on Wednesday.
"Jamie has full movement in the finger and is expected to make a full recovery," Fay said.
"He is very relieved and will be a lot more careful in the future."
He is not the first golfer to have suffered a chainsaw accident, with twice Open champion Greg Norman, 60, almost losing his left hand in 2014. while cutting some tree branches.