Robbie Regan: Wales' forgotten champion on the road to recovery
By Gareth Rhys Owen
BBC Wales Sport
Last updated on .From the section Wales
Twenty years ago, Robbie Regan was crowned a world champion. Now he has nothing.
No career, no home, no family. His is the ultimate rags to riches, back to rags story.
Regan's career in the ring was cut short by illness and failed brain scans. In the subsequent two decades, his battles have been fought against alcohol and incarceration.
He is the forgotten man of boxing.
Coping with life after boxing
A tough, rugged, durable fighter standing only 5ft 4in, Regan had a reputation as a formidable sparer and fought his way up through the British, European and Commonwealth rankings.
The Welshman lost his first world bantamweight title fight against Mexican Alberto Jimenez in 1995 but bounced back less than a year later to defeat Puerto Rican Daniel Jimenez, on a memorable evening in Cardiff.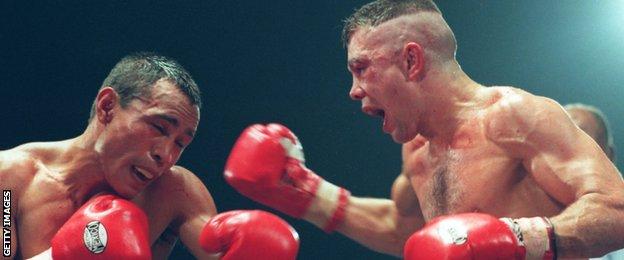 Joy was to be short-lived. Regan was sidelined for almost two years with a number of crippling injuries and suffered glandular fever. When he was finally ready to defend his title, he failed a routine brain scan.
He was stripped of his licence and would never fight again. He was 29-years-old.
"It [retirement] hit me a lot harder than I thought," Regan admitted in an emotional interview for a Radio Wales Sport Special.
"I didn't realise how much I'd miss it, I hit depression not knowing it really."
Former world champion and fellow Welshman Barry Jones' career was also cut short by a brain scan.
"We all have our process, maybe Robbie's has taken longer than mine did," said Jones.
"Like a former addict, we all have to manage our need for having someone chant our name."
Downward spiral
Regan's life spiralled out of control - and he turned to alcohol.
"I hit the drink but I was self-medicating just to forget and drink can be addictive," he says. "I had my dark days where I didn't want to be here anymore."
In 2004, he hit rock bottom when he was jailed for his part in a drunken assault. Since then it has been a long and arduous journey for the 47-year-old from Caerphilly.
Hardest Battle
In recent times, things have started to improve. Regan has given his name and reputation to a local gym and has an agent.
However, there is no hiding from the fact that he has some way to go and plenty of battles left to fight.
A boxer struggling to come to terms with life outside the ring - it's not a new story, but that doesn't make it any less sad.