Superleague: Fijian flair can help Celtic Dragons, says Trish Wilcox
Last updated on .From the section Wales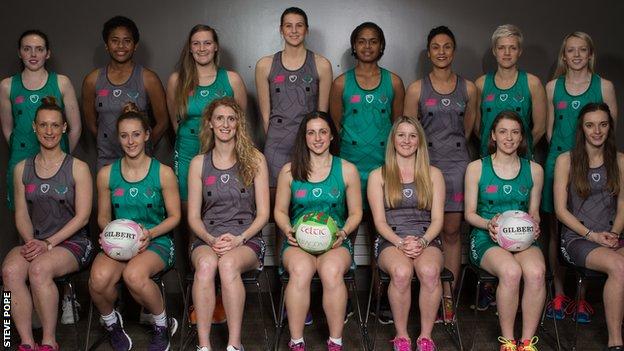 Celtic Dragons coach Trish Wilcox is hoping that Fijian flair will help her squad climb the Superleague table in the 2016 season.
Shooter Afa Rusivakula and defender Epi Kahatoha have joined the Welsh franchise after impressive displays for Fiji at the 2015 World Cup.
"They made a big impact and are very exciting young players," said Wilcox.
The Dragons start their season against Hertfordshire Mavericks in Birmingham on Saturday 30 January.
All eight Superleague teams are in action at the Genting Arena in the season opener.
Wilcox's side finished seventh in the league in 2015, and have changed more than half their 15-strong squad.
Rusivakula, 23, who works as a logistics officer in a women's prison in Fiji, had to ask for leave from her job to spend the season in Wales.
She was hoping her World Cup appearance in Sydney would bring the chance to play in an overseas league, despite having to put up with a dramatic change in weather from Fiji.
"It was my second World Cup, and I was aiming for something like that," she told BBC Sport Wales.
"I'm thankful to Trish for picking me to be here and to experience the next level of netball.
"I'm so excited but at the same time nervous, because I haven't been in a league like this before."
New faces
The Fijian pair are joined by Wales centre court player Kyra Jones, who returns after a season with Team Bath, and by five newcomers to the top level.
"I'm really excited about the make-up, I think it's a good mix of youth, experience and international flair so we've got a good balance" said Wilcox.
"(Last season) I arrived in November and I thought we improved throughout the season. Were we happy with seventh? Obviously not- we want to be competing and pushing, and like everyone else aspiring to the semi-finals."
Wilcox is delighted with the Super Saturday format to start to the season.
"It's great for the sport, it's great exposure with all the games live on TV so it's fantastic," she added.
"As a women's sport we want the same exposure as our male counterparts so I think it's a great step forward."
The Dragons will play six home fixtures at the Sport Wales National Centre in Cardiff after staging their opening home encounter in Ebbw Vale.