Olympics: Paris win would boost Rio bid says Natalie Powell
Last updated on .From the section Wales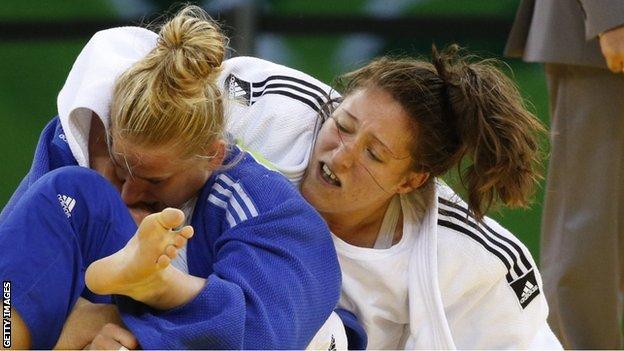 Commonwealth Games champion Natalie Powell says victory at the Paris Grand Slam would put her in a great position to qualify for the Rio Olympics.
Sunday will be the Welsh judoka's first big event of the year, with the world's top 10 fighters all competing.
After finishing fifth at the Havana Grand Prix, Powell knows she must put a marker down.
"It's a really important event and one of the biggest in the calendar," she said.
"This close to Rio, obviously everyone's going to be there.
"It will be the same standards as the Worlds really and everyone is wanting to get those last points early on as they can in the season so they can have a break before the Games.
"I'm capable of beating all these girls on my best days, it's just beating them all on the same day that I'm yet to do.
"A win in Paris would be a massive step forward and put me in a great position."
Gemma Gibbons, who Powell beat to win 2014 Commonwealth gold in the -78kg class, is her main rival for the only Team GB slot available for Rio 2016.
Powell is currently eighth in the International Judo Federation rankings, with 2012 Olympic silver medallist Gibbons 16th.
She returned to action at January's Havana Grand Prix in Cuba following a 10-week absence because of a knee injury.