Barry McGuigan hails Cardiff's 'fantastic' new Ice Arena Wales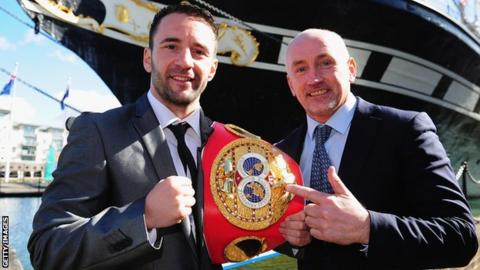 Former world featherweight champion Barry McGuigan says Cardiff's new Ice Arena will attract high profile boxing to Wales.
McGuigan has announced a partnership with Sanigar Promotions, who feature several Welsh boxers on their books.
The new partnership will begin when Bristol's Lee Haskins defends his IBF world bantamweight title against Ivan Morales on 14 May at the new venue.
"We are here partly for this arena," McGuigan said.
"It is a fantastic venue in a developing part of Cardiff. We are looking forward to trying to fill it.
"It is a new page for Welsh boxing. We have turned over a new leaf."
Ice Arena Wales in Cardiff Bay which opened earlier this month. as the new home of the Cardiff Devils ice hockey team and McGuigan is impressed with the venue.
Cardiff's Craig Kennedy and Barry-based Andrew Selby will also feature on the bill, with a crowd of over 3,000 expected.
Unbeaten Selby, 27, will face Louis Norman in what could be a British flyweight title fight, subject to British Boxing Board of Control ratification.
Selby, brother of current World IBF Featherweight champion Lee Selby, is one of the fighters McGuigan believes can benefit from the agreement.
"Andrew Selby has a lot of talent. This kid has been an elite fighter for seven years," McGuigan said.
Welsh passion
McGuigan believes boxing rivals the popularity of rugby in Wales.
"In Wales apart from rugby, and on some occasions as much as rugby, the sport of boxing has done more than maybe any other sport," he said.
"There's a wealth of talent and that inspires another pool of talent, so we are entering very exciting times.
"There are so many young kids there on the back of Nathan Cleverly, Enzo Maccarinelli and Joe Calzaghe.
"The Celts love their boxing, they're different.
I have been down here in the days of Joe Calzaghe and Steve Robinson and it was a brilliant atmosphere and full of passion. This is the place to be."