Olympic champion Jade Jones fighting fit ahead of comeback
By Victoria Turner
BBC Wales Sport
Last updated on .From the section Wales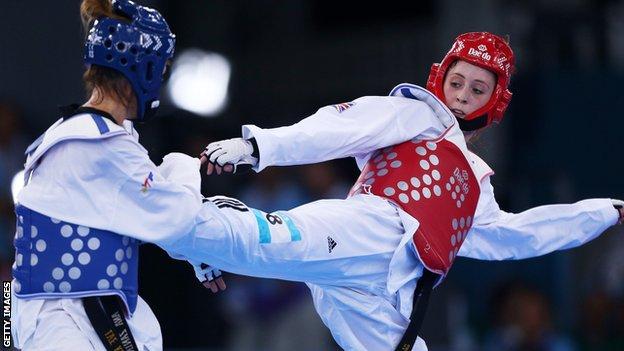 Olympic taekwondo champion Jade Jones says she has fully recovered from injury and is confident she can claim her place at this summer's Games in Rio.
Jones missed March's Dutch Open and the Presidents Cup in Germany earlier this month due to a knee injury.
The 22-year-old will return to action in the German Open on Sunday.
"I can't wait to get stuck in the competition," Jones told BBC Wales Sport.
"I am really glad to be back in full time training and injury free now.
"In the whole scheme of injuries it is not that big a deal, it is only a little niggle, but it was my first ever injury and the fact that if I carried on training I could have made it worse.
"It was not worth risking for the Olympics so it was better to get it strong and get it back to normal, for the sake of missing a couple of competition."
The German Open is preparation for the European Taekwondo Championships in Switzerland in May and Jones hopes she will get up to six fights in her -57kg category over the weekend.
"I just need as many fights as I can really, because the team have already been to two competitions and have had lots of fights," Jones said.
"They have also had two training camps and had loads of sparring so I have literally have done no sparring so I just need to get as much as I can."
'I can do it again'
Jones won gold in the 2015 European Games in Baku after beating Croatia's Ana Zaninovic, and now hopes to be selected to defend her Olympic title in Rio this summer.
"I am really confident I think I have done enough to prove that it is my place and my spot and I just need to keep fit and in form now," Jones added.
"Every competition I go in I only going for gold and it will be a disappointment for anything less.
"I really believe I can do it again so it is just about doing it on the day and going for it."
Jones won gold at London 2012 when she was only 19, after beating China's Yuzhuo Hou to take the women's -57kg title."