Olympics 2016: Sailing World Cup gold boosts Rio confidence - Hannah Mills
Last updated on .From the section Wales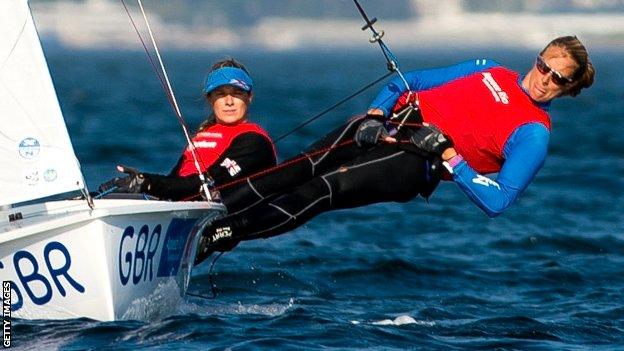 Wales' Hannah Mills says winning 470 gold with sailing partner Saskia Clark at the World Cup in France is a boost ahead of the Rio Olympics.
The 2012 world champions and Olympic silver medallists were second overnight but won by a point after finishing third in the medal race on Sunday.
"It gives you a bit of confidence," Mills told BBC Wales Sport.
"We had a great week. Racing's been super close all week, the top four boats battling it out."
The Great Britain duo's fate in Hyeres "came down to the wire" in the final race leaving Mills "just so happy to get the gold medal."
"We've just come back after a bit of time out," she added.
"Saskia had a bit of surgery and it's the first event back and for it all to come together at the end to get the gold was just a bit unbelievable really.
"It definitely helps when you've had a bit of time out to step back into it close to where you left off."
Rio concerns persist
However, the water quality at the Rio de Janeiro sailing course remains a concern for Mills, having previously said the polluted waters could hinder her chances of winning gold at this summer's Olympics.
World Sailing, the sport's governing body, said in December that the water quality in Rio needed major improvement.
Mills, who will soon head back to Brazil for another training camp, said: "We really hoped for the city and the people in the city it would improve, but unfortunately it doesn't appear to have happened.
"So we still need to do what we can to protect ourselves against anything in the water that might spray up into our faces.
"And if we capsize or the boat tips over and we go in the water, then we really need to be on it in terms of our hygiene and trying to minimise the risks because it is quite a real risk."