Rhys Williams: Welsh 400m hurdler closes in on Rio Olympic qualification
Last updated on .From the section Wales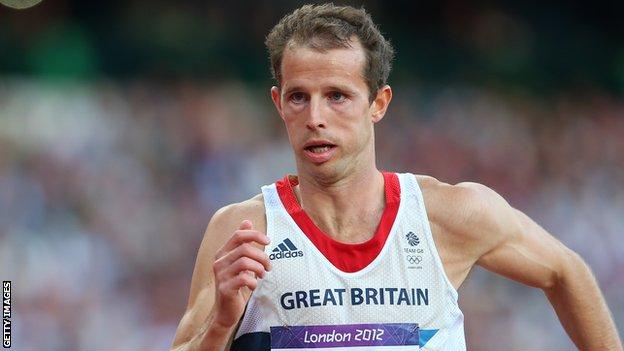 Rhys Williams believes he is in better form than he was for the 2012 Olympics as the Welsh 400m hurdler closes in on qualification for the Rio Games.
Williams, who failed a drugs test in 2014, won the IFAM title in Belgium on Saturday in a time of 49.22 seconds, which meets the Olympic A standard.
He now needs to finish in the top two in June's British Championships to seal his place for Rio.
"Compared to four years ago, I would say I'm a bit further ahead," he said.
"My times are a little but slower than my 2013 season but we're talking tenths [of a second], which is nothing.
"When you've got 10 hurdles in a race, you can claw that back in the click of a finger, so I'm in a good place."
Williams returned to competitive action last year after his ban, which he served after UK Anti-Doping found that he and fellow Welshman Gareth Warburton had inadvertently taken a contaminated food supplement.
The son of former Wales and British and Irish Lions wing JJ Williams won the 2012 European Championships title before qualifying for the London Olympics later that year.
'Maybe I'll never fully get over it'
Now he wants to seal his comeback from his drugs ban by competing at the Rio Games this summer.
"What has been the most challenging is the mental aspect," Williams told BBC Wales Sport.
"Coming back from what happened in 2014 has been so, so tough, so that's what I've been working on and the benefits of that are starting to show.
"It's taken me a long time to get over it. Maybe I'll never fully get over it but you cannot dwell in life.
"My aim was to finish after the 2014 Commonwealth Games but after the supplement fiasco, I couldn't finish on such a bad note.
"I want to look back on my career with a smile on my face."