Ian Woosnam aims to regain form in Wales as he seeks first home win for 26 years
Last updated on .From the section Wales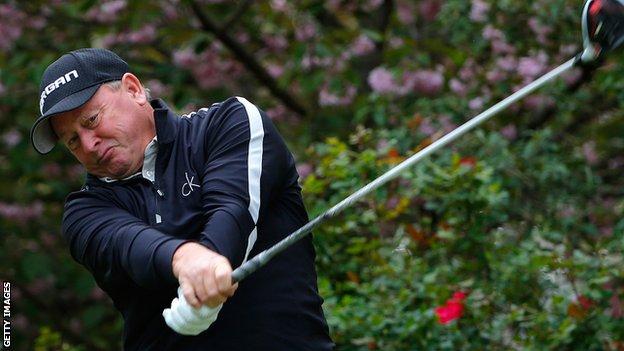 Ian Woosnam is hoping to find fortune amid home comforts as he chases a first win on Welsh soil since the 1990 Epson Grand Prix of Europe.
The 1991 Masters champion is sure to be the favourite with the galleries this week at the Wales Senior Open, as he seeks to better three top three finishes in the past six years.
Woosnam finished joint runner-up last year behind Paul Wesselingh.
"I maybe should have won here in Wales in the past," he told BBC Wales Sport.
"Let's go out there and see what happens. Sometimes when you're not expecting to win you can go out and turn it around.
"I only need to hit a few good shots and maybe it will all come together - I'm surprised I've done as well as I have over the last few years. It's great coming back here and having everybody recognise you as a golfer from Wales."
Inconsistent form
The captain of the 2006 Ryder Cup admits he has concern over his form and is now going to attempt to emulate Bernard Langer's broom handle putting style.
"I've not been playing very well so far this year," he added. "I've been struggling with my game, especially the putting side of things.
"I'm going to try the Bernhard Langer method - you can see how well he's been putting, so why can't I do it?
"There are a few inconsistencies in my game and I can't seem to put a score together. My luck's not going right, but this might be the week that changes it."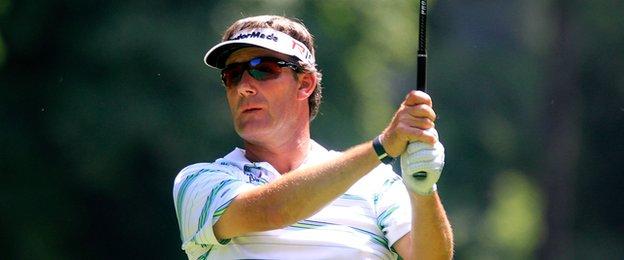 Joining Woosnam in the field are defending champion Wesselingh and fellow 2015 runner-up Peter Fowler.
Fowler finished second in the Order of Merit last season, and hopes he can go one better in both this year's rankings and the Wales Senior Open.
"It would be good to go that one step further," Fowler said. "I've been trying to do my homework on the greens here. The wind is tricky, but the greens are even trickier.
"There's so much slope on them you really need to learn as much as you can about them. They have got some massive, massive slopes on these greens. You definitely don't want to be in the wrong place.
"That being said, I really enjoy it here. The hotel and facilities are good and the course is in great shape again."
Former Wales Senior Open winners Phil Golding, Barry Lane, Bill Longmuir and Carl Mason are all in the field this week.
Wales Senior Open 2016 selected tee-off times
Venue:
The Celtic Manor Resort
Date:
3 June 2016 - 5 June 2016
Paul Wesselingh 10.00 BST, Barry Lane 10.20 BST, Ian Woosnam 10.20 BST, Phil Golding 10.40 BST, Peter Fowler 11.15 BST, Carl Mason 11.15 BST, Bill Longmuir 11.25 BST.