Rhys Williams hopes for Olympics repeat
Last updated on .From the section Wales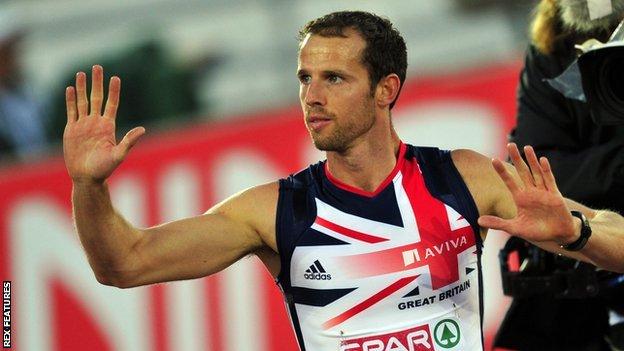 Welsh 400m hurdler Rhys Williams believes he can repeat his efforts in 2012 by making the Great Britain team for the 2016 Rio Games.
He failed to win automatic selection at the British Championships in Birmingham last weekend, as he did four years ago, but went on to compete at London 2012.
Williams, 32, will bid for Rio selection at the European Championships from 6-10 July in Amsterdam.
"The doors haven't completely closed in my favour," said Williams.
"I was in exactly the same situation four years ago for the London Olympics when I fell at the British champs so I just need to repeat what I've done before.
"But I've just made it a bit harder for myself."
The 32-year old who finished third behind Sebastian Rodger and Jack Green in Birmingham, says he will do all in his power after that to be in Team GB for Rio when it is announced on 11 July.
"I went off exactly the way I wanted to and I felt I executed the race pretty well and made no mistakes," said Williams.
"But for whatever reason it wasn't my day and another guy had a stormer, as can sometimes happen in sport, especially my event with 10 hurdles in the way.
"I was disappointed not to get top-two automatic selection, but now I'm going to the European Championships."
Williams is continuing on the comeback trail after receiving a four-month ban for doping in 2014.