Rio 2016: Helen Jenkins 'relaxed' as she hopes to make Olympic triathlon history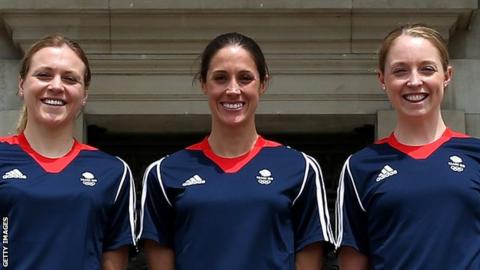 Helen Jenkins hopes her "relaxed" attitude at her third Games can help her win in Rio and claim a first women's triathlon medal for Team GB.
The two-time world champion will line up alongside British team-mates Vicky Holland and former world title-holder Non Stanford at the Copacabana beach.
Alistair Brownlee secured back-to-back triathlon titles in the men's race, and Jenkins leads the women's charge.
"Nothing can be as pressurised as London 2012," admitted the 32-year-old.
"I was one of the favourites going in to it and had a major injury beforehand. Dealing with the few months before London was among the hardest things I ever had done."
The Welsh athlete was reigning world champion when finishing fifth in London.
Four years earlier Jenkins was 21st on her Olympic debut in Beijing.
"I am proud how I performed under the pressure with a significant injury in London," said Jenkins.
"This time around it seems so much more relaxed and the other girls doing so well, it does take some of the pressure off.
"We have three of us who could all win medals - and even gold. It's quite exciting to be part of that team."
Fellow Welsh athlete Stanford is also a realistic contender on her Olympic debut, but reigning world champion Gwen Jorgensen of USA is tipped to win the 2016 title.
"I have never been to a major games while Helen has been to three," said Stanford.
"I'll need to draw on that, but I'm reassured it's just another race - but also, like no race you'll ever do! I think every athlete who stands on the start line thinks they can win Olympic gold.
"A British 1, 2, 3 is the dream and that is not completely unrealistic."
Jenkins and Stanford also hope to add to the record Welsh Olympic haul of 10 medals - including four golds - at Rio 2016.