Paralympics 2016: Aled Sion Davies praises coach after winning gold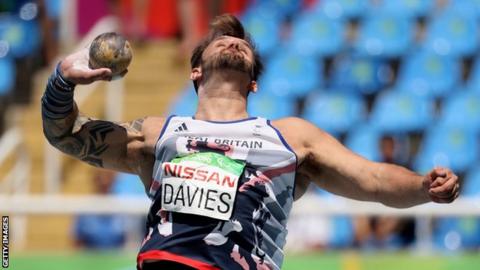 Aled Sion Davies praised the contribution of his coach Ryan Spencer-Jones after winning the Paralympic F42 shot put gold medal.
The 25-year-old Welshman won discus gold in London 2012 but has concentrated on the shot after his preferred event was dropped from Rio.
"I just wanted to do justice to where I'm at and the hard work that Ryan has put into me," he said.
"I'm so happy to have come here and be able to go home to Wales with a gold."
Davies teamed up with Spencer-Jones in 2014 after parting company with Anthony Hughes, who had coached him since he was 15.
His coach is part of a large team who support Davies.
He credits Spencer-Jones with helping improve his fitness - a process that Davies says has seen him trim down more than five stones in weight.
"It gets really emotional out there after all the hard work that's gone into this having to switch the event," he added.
"[But] I was able to come out here and be the best shot-putter I can be.
"After learning that there would be no discus event at Rio I had to change to be a shot-putter.
"It was difficult because I love throwing the discus but I had to concentrate completely on the shot put.
"I've had a fantastic team around me and I can go home now with a gold medal and show that the hard work has paid off."
Davies improved on the bronze he won in the shot at the 2012 London Paralympics, breaking the Paralympic record three times, with his winning throw of 15.97 metres well clear of his nearest rival.
Iran's Sajad Mohammadian claimed silver with a throw of 14.31m, while South African Tyrone Pillay picked up bronze.