Ian Woosnam: Former champion to play again at US Masters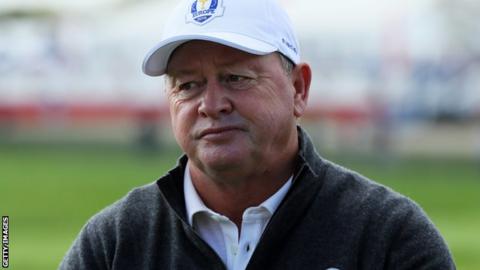 Ian Woosnam will continue to play in the Masters despite previously saying the 2016 event would be his last.
Woosnam, 58, won his only major at the 1991 US Masters but said he would no longer take part at the Augusta National because of a persistent back injury.
The Welshman says he has decided to continue after he was inducted into World Golf's Hall of Fame.
"This has given me a bit more enthusiasm to play," Woosnam said.
"I'm going to play for another couple of years at least.
"As long as I don't embarrass myself too much and the other players I'm going to have another couple of goes."
Oswestry-born Woosnam said he was "overjoyed" to be among five 'Class of 2017' inductees into World Golf's Hall of Fame.
Woosnam, who now plays on the US Senior Tour, spoke in April of his disappointment at not having been inducted into the Hall of Fame.
The former European Ryder Cup winning captain admits it could have been sooner if he had been less outspoken.
"My record is a lot better than other players that are in the hall of game," Woosnam added.
"But I'm really pleased to be going with so many greats."