BBC Sport - Wales' Charlotte Carey ventures across Europe to play table tennis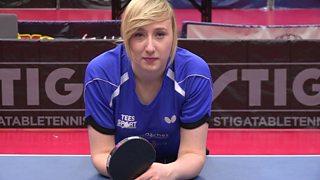 Ping ponging around Europe
Charlotte Carey is Wales' best table tennis player.
The 20-year-old from Ebbw Vale has represented Wales at the last two Commonwealth Games and is set to make the team for the Gold Coast in 2018.
But she can't play in Wales.....and in her pursuit for the highest level of competition Charlotte, who lives in Halmstad in Sweden has to travel to Copenhagen in Denmark, to fly to Basel in Switzerland and then drive to Weil in Germany to play for her team!
BBC Wales Sport followed her as she ventures across Europe.
If you want to find out about how to get into table tennis, take a look at our inclusive guide.