Mountain-biker Manon Carpenter excited by changes ahead of new season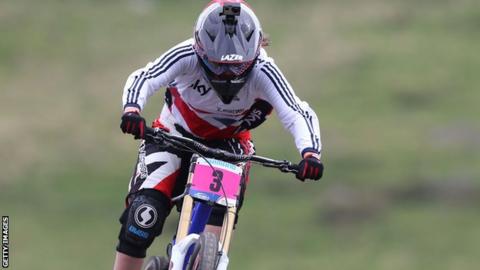 Welsh downhill mountain-biker Manon Carpenter is looking forward to a fresh start next season after an injury disrupted 2016.
The former World champion and World Cup winner broke a collarbone in September.
Carpenter, 23, is leaving the Madison Saracen Downhill Team after six years but is yet to announce who she will join.
"I've always been with the same team and thought it was time for a change," she said.
"I'm back with a coach I was working with up until 2014 and changing teams for next year, which is quite exciting."
Carpenter had broken her collarbone during the UCI Downhill Mountain Bike World Championships in Val di Sole, Italy.
The Welsh rider finished second in the 2016 Downhill Mountain Bike World Cup behind England's Welsh-based Rachel Atherton.
She was also runner-up to Atherton in 2015 having won the World Cup and World Championships the previous year.