Jade Jones: Taekwondo champion could be 'the next Ronda Rousey'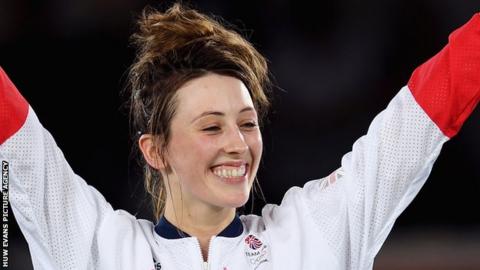 Welsh UFC fighter Brett Johns says double Olympic taekwondo champion Jade Jones could be the next Ronda Rousey.
The 23-year-old admitted she could be tempted to take up mixed martial arts (MMA) after competing at Tokyo 2020.
After winning bronze for the United States in Judo at Beijing 2008, Rousey became a fighter in the Ultimate Fighting Championship (UFC).
"[Rousey] is one of the highest profile mixed martial artists that has stepped foot on the planet," Johns said.
"Why can't we have that for Jade? What's saying that she can't be the next Ronda Rousey, I'd love to see her achieve that sort of status."
Jones could be the first fighter to win three Olympic gold medals in taekwondo when she competes at the next summer Olympic Games in four years' time.
"There's a lot of successful mixed martial artists out there that have a background in taekwondo," Johns said.
"I was a judo player and in my first MMA session I had my head boxed off."
Johns became the first Welshman to win a bout in the Ultimate Fighting Championship (UFC) when he beat South Korean Kwan Ho Kwak at Fight Night 99 in Belfast in November and believes Jones could benefit the sport in Wales.
"I think she'd be an amazing asset to have in the Wales MMA circuit. I've trained with a lot of females who do taekwondo and they are really good," he told BBC Radio Wales.
"She's young enough and it will be an amazing to have a female Welsh mixed martial artist. We've got the males and now we can see if we can get the females in."