Welsh National: Firebird Flyer carries home hopes at Chepstow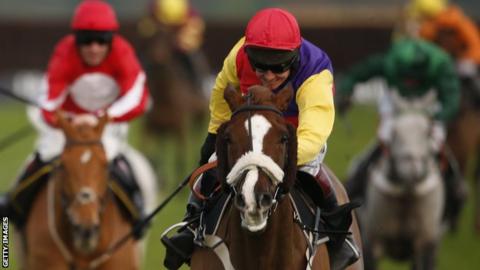 Evan Williams-trained Firebird Flyer carries home hopes at the Welsh Grand National at Chepstow on Tuesday.
Welsh racing's richest event is set to go ahead on schedule in spite of heavy rain over Christmas.
Top-weight Native River is the favourite with 2015 winner Mountainous also in the field for the race with offers record prize money of £150,000.
The going is good-to-soft for the race which has had to be re-scheduled three times in six years.
History is against the Colin Tizzard-trained favourite, according to Chepstow's executive director Phil Bell.
"He'll be the first horse since Carvill's Hill 25 years ago to win the race while carrying top weight, if he can do," said Bell of the Hennessy Gold Cup winner.
"He's a proper horse. His owners have aspirations of running him in the Gold Cup at Cheltenham or the Grand National, so we're delighted to have a horse of that calibre in the race."
Bell says the increase in prize money was in part responsible for a record initial entry of 102.
That entry will be cut to 20 by the time the race starts on Tuesday.
Mountainous is attempting to win the race for a third time after clinching the re-scheduled 2015 event, which was run in January this year.
Firebird Flyer is 14-1 to win, behind Native River, Onenightinvienna, Carloe's Destrier and Bishops Road in the betting.