Kevin Johnson: Wales women 'will not be found wanting' against Ireland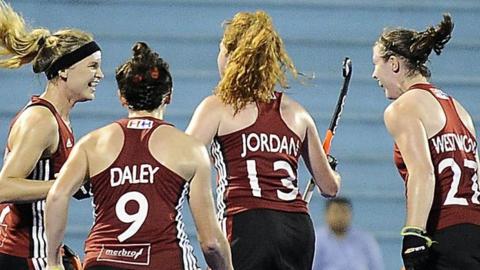 Wales' women "will not be found wanting" when they face Ireland in the World League hockey semi-final in Kuala Lumpor on Saturday.
A win would guarantee either nation a place in the next round of the World League in June.
Ireland are world-ranked 16 compared to Wales' 32, but coach Kevin Johnson has backed his team.
"When you get to a semi-final it's a one-off game and we've earned the right to be there," he said.
"When it comes to Saturday we won't be founding wanting when in comes to application and desire."
Wales have never played at this level before and earned their place with a 2-1 quarter final victory over Kazaksthan which followed a 3-0 win against Thailand.
Ireland beat Singapore 10-0 to reach the semi-finals.
"Our world-ranking points we get for reaching the last four of this competition really help us in our qualification for the Commonwealth Games and just that journey up through the world rankings," added Johnson.
"They are ranked 16 in the world and have been exposed to a number of high level tournaments.
"They're an A-division European side while we're in the B-division.
"So it's going to be a tough challenge but there will be a lot of expectation on Ireland and as a result of that we can play with creativity and we're certainly capable of hurting teams and we've managed to get results against team ranked higher than us."