Maisie Potter: Welsh snowboarder focussed on 2018 Winter Olympics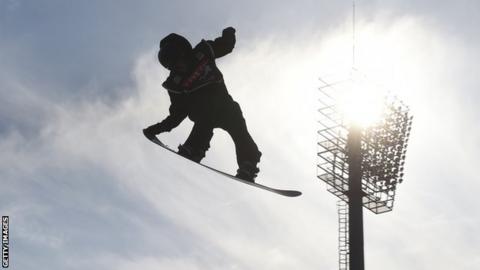 Welsh snowboarder Maisie Potter says the 2018 Winter Olympics are on her mind a year away from the games' start.
The 19-year-old is in her second year of competition at the Federation Internationale du Ski (FIS) snowboard cross World Cup circuit.
Qualification for PyeongChang 2018 depends on points accumulated from races during the season of the Games.
The 2018 games' opening ceremony takes place on 9 February 2018 in South Korea.
Potter, who is from Bangor, said: "It [the Winter Olympics] is definitely on my mind, I'm still part of Olympic qualification.
"I am just taking every race one step at a time and I'm not getting too ahead of myself and I am aiming for that. I just want to see how things turn out
"I have still got time, I have still got a year to go."
She competes in Germany this weekend looking to improve on her season best finish of 26th place claimed in the USA on 21 January.