Elinor Barker: Gold medal-winning cyclist aiming for medals at World Cup
Last updated on .From the section Wales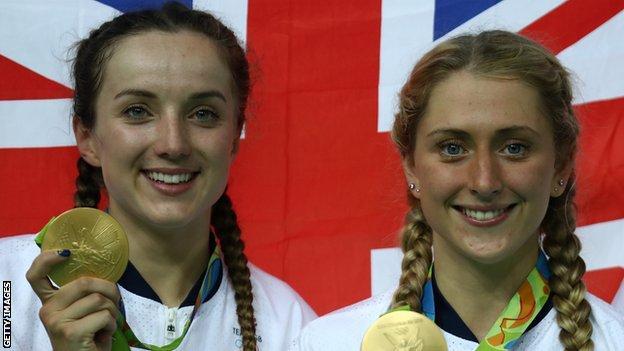 Olympic gold medallist Elinor Barker is targeting a medal in the madison and scratch race at the Track Cycling World Cup in Los Angeles on Saturday.
Barker, 22, will team up with Ellie Dickinson for the first time in the madison and is happy with the pairing.
"We have found it quite easy to get along. We've been practising a lot back home in Manchester," she said.
"We're both a similar size, similar weight, so it makes swinging each other in really easy."
She told BBC Wales Sport: "Ellie is really good and really fast so I've got a lot of confidence that we can get a decent result out here."
Barker is confident about her chances of winning medal in the scratch race too after clinching gold in Alpendoorn in November 2016.
"It's the first big international bunch race that I've ever won so that's exciting, hopefully I can win my second won this weekend," Barker added.
"We've got a pretty young team at the moment so I don't feel like there is too much pressure, certainly not on myself.
"I'm trying some new things that I've not been specifically training for, It's all relatively new to focus on bunch racing events, so I'm enjoying the differences in training."
Barker's two races are only ten minutes apart but she is aware there will be a lot of athletes in the same situation.
"It's going to be pretty difficult but I think there will be a lot of people in the same situation," Barker said.