Welsh driver Matt Parry competing in GT Series Endurance Cup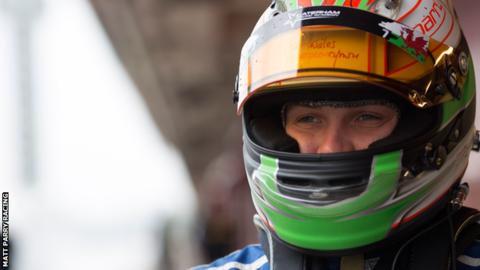 Welsh driver Matt Parry will make his sports car racing debut in 2017 competing in the GT series Endurance Cup for the RJN Motorsport team.
The 23-year-old will contest all five rounds of the Endurance Cup season, driving the Nissan GT-R Nismo GT3.
Parry raced in the GP3 series in 2015 and 2016, which is a support class in the Formula One championship.
The Welshman had success in GP3 and won a race at the Hungaroring and finished third at the Hockenheimring in 2016.
In his first season in GP3 he made it onto the podium three times.
The Cardiff-born driver has also won titles in Formula BMW and Formula Renault. He was the recipient of the McLaren Autosport BRDC award.
He is also won the Carwyn James Award for the best young Welsh sportsman at the 2013 Wales Sport Awards.
"The biggest thing is to put myself out there and show myself as a good endurance GT racer," Parry, told BBC Wales Sport.
"I want to show potential to Nissan, and to have a long future with them, and this year is about proving to them that I deserve the spot that I have got and progress through the Nissan Nismo ranks.
"Hopefully 2018 will see me stay with the same team. Hopefully we will be challenging for race wins and race podiums."
Parry has not given up on his main ambition of racing in Formula One and there is still a chance he might compete in some GP3 rounds in 2017.
"There is still a possibility that I might actually compete in GP3 as well, a very small one," Parry added.
"It was a difficult move to make that transition over, but now I am here and I am looking forward to the new challenge."
Parry will partner Struan Moore and Matt Simmons in the RJN Motorsport team.
The first round of the Blancpain GT series Endurance Cup is in Italy on 22 April.