Brett Johns: Welsh fighter's UFC bout against Ian Entwistle cancelled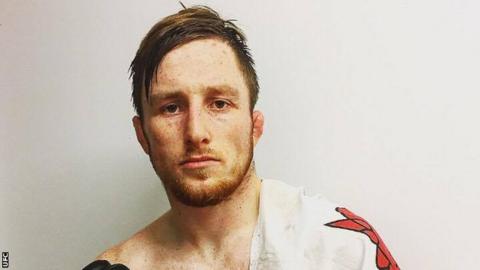 Welshman Brett Johns' Ultimate Fighting Championship (UFC) bout against Ian Entwistle at London's O2 Arena has been cancelled.
The UFC have removed the bout from Saturday's UFC Fight Night 107 following medical advice on England's Entwistle.
Johns, 25, is undefeated in his 13 professional MMA fights, including his UFC debut in Belfast in November.
"To say I am devastated is an understatement," Johns said.
"I have been training so hard for the last eight weeks.
"I sensed something was up in the weigh in yesterday. I saw it in his eyes. In the back of my mind I knew something was up.
"I'd come back from having a coffee this morning and my manager was in my room. I knew then he'd pulled out."
"Some people are built for this game, In my opinion he didn't look like he wanted to fight me.
"It's up to UFC now to see what will happen. This has never happened to my in my career."
UFC said in a statement: "Following a trip to the hospital earlier in the day, bantamweight contender Ian Entwistle has been removed from tonight's scheduled bout against Brett Johns per doctors recommendations. "
Around 15,000 people are expected for the first UFC event of 2017 to be held in Europe.