Laura Halford: Welsh gymnast ready to peak for 2018 Commonwealth Games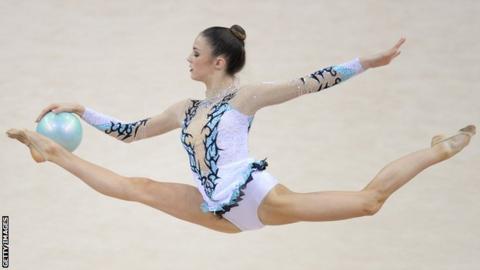 Rhythmic gymnast Laura Halford says this weekend's European Championships will be good preparation for the 2018 Commonwealth Games on Australia's Gold Coast.
Halford, 21, won three medals for Team Wales at the 2014 Games in Glasgow.
She begins her European Championship campaign on Friday evening as the tournament gets underway in Budapest, Hungary.
"I'm feeling quite confident," Halford told BBC Wales Sport.
"This competition is a similar setup and level to the Commonwealths so it's really good preparation.
"I can't believe (the 2018 Games) are coming round so quickly so I just need to make every competition and training session count."
'Not long left in the sport'
Halford won the British all-around title in 2013, 2014 and 2015 and earlier this month reached her first World Cup final at the Portimao World Challenge Cup in Portugal.
But despite only turning 21 in February, Halford says she does not know how much long she will be able to continue competing.
"I think I won't have much longer left in the sport, which is crazy because I still feel really young," Halford said.
"In 2014 at the Commonwealth Games I peaked well there so hopefully I'll peak again next year because that's my main aim at the moment.
"In gymnastics it's easy to get injured so it's just about how long my body can last! But I'm just going to keep going while I enjoy it."
Competing for popularity and funding
Halford admits the rhythmic side of gymnasts struggles to gain as much publicity as the artistic form - which features double Olympic champion Max Whitlock and European champion Ellie Downie.
Much of her funding relies on getting good results.
"I'm really lucky with Wales because we did so well in the last Commonwealths and we got quite a bit of funding from it," she says.
"So I do get some support paying for my competitions but unfortunately the sport is still not very popular at all.
"I always want to try to improve, not just for myself but to try to build the profile of sport. If we get more international results then maybe the popularity of the sport will go up - and also the funding."
Halford and Stephani Sherlock are the only two British gymnasts competing at this weekend's European Championships.