Rob Davies, Tom Matthews and and Paul Davies: Para Table Tennis trio take German Open gold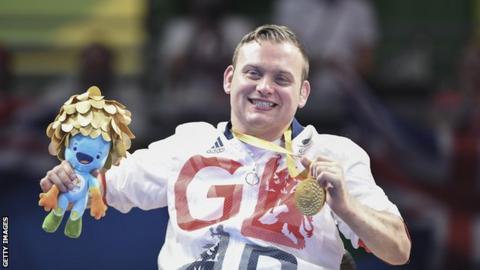 Paralympic table tennis gold medallist Rob Davies, Tom Matthews and Paul Davies beat world champions Italy to win gold in the men's class 1 team event at the German Open on Saturday.
Rob Davies, 32 from Brecon, and his fellow Welshmen won their first three matches in the round-robin stage.
In the final Italy won the doubles 3-2, but Matthews levelled the tie with a 3-1 win against Federico Falco.
Rob Davies then secured gold with 3-0 win against Andrea Borgato.
Elsewhere in the British Para Table Tennis Team, Aaron McKibbin and Ross Wilson took silver in the men's class 8.
Megan Shackleton, 18, and her Russian team partner Aleksandra Vasileva took silver in the women's class 4-5, and there were bronze medals for Paul Karabardak and Martin Perry in the men's class 6.
Further bronzes followed for Will Bayley and Billy Shilton in the men's class 8, and Ashley Facey Thompson and his German partner Yannick Ruddenklau in the men's class 9.