Cardiff Devils: Layne Ulmer and Mark Louis confirm return for new season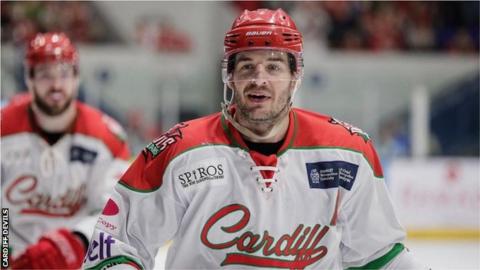 Cardiff Devils have continued to fill their roster for next season, with the return of Mark Louis and Layne Ulmer.
Defenceman Louis impressed at the back and also weighed in with five goals and 12 assists in 63 games.
Forward Ulmer claimed 23 goals and 46 assists in 65 games, pipped only by Joey Martin and Andrew Hotham in the scoring stakes for the champions.
It will be the second year at the Welsh club for both men after impressive debut seasons last term.
"Ulmer is a winner, it's that simple," said Devils coach Andrew Lord.
"We brought him in to be a leader and because of his proven track record of winning and playing his best in the big games.
"Before he came here, he won six titles in seven years in Italy. Guys that get a taste for winning know what it takes to win and also can be a calming presence in pressure situations because they have been there before.
"Louis controls the puck so well and obviously his size makes him tough to get by in the defensive zone, but his skating ability is what impressed me so much last season.
"When a guy is that big and skates that well, he is tough to slow down."