Netball Super Cup: Celtic Flames end with win over University of Trinidad & Tobago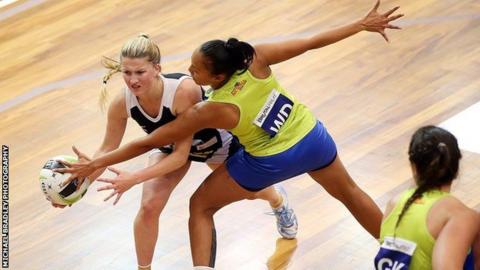 Celtic Flames finished fifth at the eight-team International Super Cup competition in New Zealand by beating University of Trinidad & Tobago 62-47.
Georgia Rowe converted 29 of 32 shots, Chelsea Lewis (16 of 18) and Anna Thompson (16 of 19) led the scoring for the Welsh-based side.
Flames finished third in their pool with one win and two losses.
But they beat Gauteng Jaguars 57-45 on Thursday in the play-offs and then beat UTT in the fifth-sixth place match.
Flames jumped into a 16-12 lead after the first quarter against UTT and outscored their opponents in every period after that, including a fine third quarter where the shooting of Rowe and Thompson saw the scoring 19-13 in Flames' favour.
"There was incredible progress over the week, the growth of the players and team has been sensational," Welsh Netball chief executive Sarah Jones said.
"If you look back to their first game on Sunday [losing 65-41 to the host nation's Pulse Netball side] to where they've ended up.
"Three wins under the belt and one of those against the national champions from South Africa [Gauteng Jaguars] as well, so three huge wins for the squad.
"It's been a hugely successful week and we're absolutely delighted."