Pro14: Cheetahs eye European elite rugby after inclusion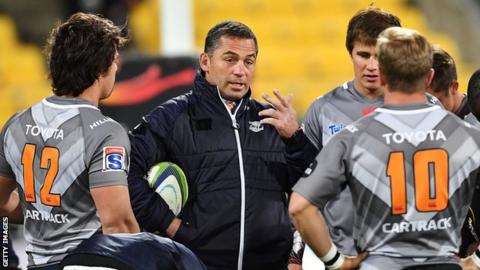 Cheetahs director of rugby Franco Smith hopes South African sides will become eligible to compete in elite European rugby tournaments.
The Cheetahs and the Southern Kings officially joined the expanded Pro14 tournament this week but cannot currently qualify for the Champions or Challenge Cup
Smith hopes this changes in the future.
"It would be brilliant to play in but for now we understand the reasons we can't," said Smith.
"It would be wonderful if South African sides can play also the French and English sides in that tournament.
"I believe we need to just get the logistics out of the way and find our feet in the Pro14 competition.
"It's a good idea for us just to have us playing and see how it works out.
"But it (European rugby) would be a good carrot to work towards."
The Pro14 will see the teams split into two conferences of seven made up of two Welsh, two Irish and one team each from Scotland, Italy and South Africa.
The top three non-South African sides in each conference plus the next team with the most points will occupy the seven spots for the Champions Cup, with the other five taking the Challenge Cup places.
European Professional Club Rugby, the body which runs the Champions and Challenge Cup competitions, has outlined its current position in a statement about the South Africans joining.
The statement read: "From EPCR's perspective, there is no time frame on this.
"There has been no proposal put to the EPCR board regarding South African clubs participating in European competitions.
"Any such proposal would require unanimous board approval for a change to the current qualification criteria."
The board members include chairman Simon Halliday, Philip Browne (IRFU), Gareth Davies (WRU), Mark Davies (Pro Rugby Wales), Mark Dodson (Scottish Rugby), Fabrizio Gaetaniello (FIR), Robert Howat (Scottish Rugby), Mark McCafferty (PRL), Paul McNaughton (IRFU), Nigel Melville (RFU), Pascal Papé (FFR), Andrea Rinaldo (FIR) and Yann Roubert (LNR).
More South African sides
Smith has switched from the Cheetahs head coach position to a director of rugby role, to help accommodate his other position as assistant coach with South Africa.
The former Springboks back believes more South African sides could join the Cheetahs and the Kings, with the Lions, Bulls, Sharks and Stormers the four remaining sides in Super Rugby.
"We are the pioneers of a big thing that can happen," added Smith.
"There are South African teams going to look with interest at what is happening with our tournament.
"Super Rugby will have to take a big step up and change in the next couple of years of the contract to reignite the interest in the tournament.
"If they don't get that right more South African sides will look to play in a competition like the Pro14.
"Although there was uncertainty in leaving Super Rugby we are excited about joining this tournament
"Being in the same timeline is excellent and travel time is much shorter."
Challenging times
Smith will return to Wales after spending a season in 1999-2000 playing for Newport, where he made 27 appearances before going on to become head coach of Treviso.
He has outlined some of the challenges sides from both hemispheres will face.
"It will be tough for the Welsh and other sides to come to South Africa to cope with the heat and intensity, but we will also have to cope with the different conditions," said Smith.
"Both the Kings and ourselves have to adapt. We are setting our expectations high but have to be realistic.
"We are at the end of our season and not used to playing past October, so fatigue will play a part.
"We will also be halfway through the Currie Cup once the Pro14 tournament starts in September.
"To field two sides in two tournaments is going to be tough.
"But during next year's Six Nations we will have all our internationals and teams from the other countries will have players away with their national sides.
"This could allow us to redeem some points."