UFC: Welshman Brett Johns faces Aljamain Sterling in Atlantic City
Last updated on .From the section Wales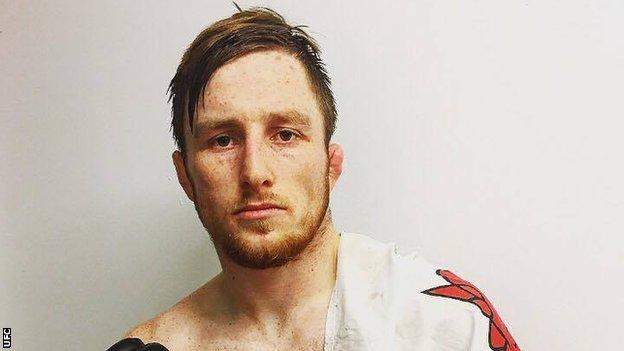 Welsh fighter Brett Johns will face top-10 ranked Aljamain Sterling in a UFC bantameight bout in Atlantic City, United States on 21 April, 2018.
His impressive "calf-slicer" move which led to Soto's submission in just 30 seconds was one of the top 10 UFC submissions in 2017.
But Johns faces a step up in class against number nine ranked Sterling.
The Welshman, ranked 14 in the weight division, meets the New York-based 28-year-old Sterling at the Nevada Park Theatre.
Sterling's career began with 12 straight wins, but he has won only two of his last five fights.
The last of those losses, a knock-out, came against Marlon Moraes in December.
Johns' win over Soto made headlines in UFC not only because of its speed but because of the unusual nature of his technique.
It was only the second time in the history of UFC that a calf-slicer hold had been used to secure a submission.