Local cricket: Pembroke champions Carew face disrepute charge
Last updated on .From the section Wales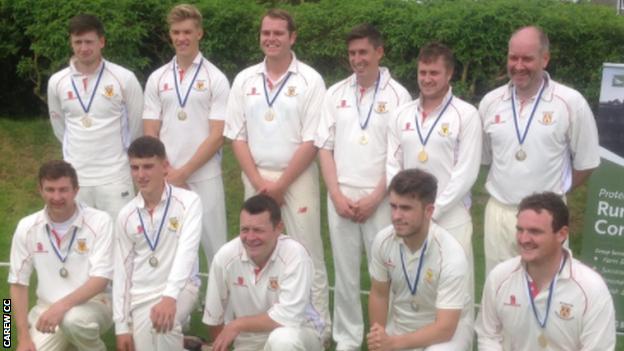 Carew Cricket Club has been charged with bringing the game into disrepute following their controversial declaration that allowed them to win the Pembroke league title.
Cresselly won their 'title-deciding' match against Carew in August but it was the latter who were champions.
Carew declared on 18-1 to deny Cresselly the chance of securing any batting or bowling bonus points.
Carew and captain Brian Hall will face a disciplinary hearing on 26 September.
Pembroke County Cricket Club (PCCC), responsible for enforcing the regulations within Pembrokeshire cricket, had earlier this month set up a sub-committee to investigate the matter.
A league statement read: "Pembroke County Cricket Club received several written complaints concerning the conduct of both Carew CC and their captain, Brian Hall, following their match with Cresselly.
"In accordance with the procedures as outlined in the county handbook a disciplinary sub-committee met on Monday, 11 September.
"As a result of that meeting Carew have been charged with bringing the county cricket club into disrepute.
"Mr Hall has been charged with a failure in his duties as a captain in ensuring the game was played within the spirit of cricket."
League officials are unsure at the moment what disciplinary action could be taken if the club or captain are found guilty. The most extreme punishment for the club could see them stripped of the league title.
The hearing will be held at Haverfordwest Cricket Club. Carew have declined to comment following the announcement of the disciplinary hearings.
What happened?
The battle for the Division One title between leaders Carew and second-placed Cresselly came down to the final match decider.
But Carew appear to have worked out the mathematics which would see them lose the match but clinch the title if they denied their opponents any batting or bowling bonus points.
Carew started with a 21-point lead and Cresselly received 20 points for their quick victory.
So after Cresselly won the toss and put their opponents into bat, Carew declared on 18-1 after just 15 balls with Cresselly reaching their target in two overs and winning the game, but losing the title by a single point.
The league rules state that one bowling bonus point is awarded for every two wickets taken in an innings. While batting, one bonus point is awarded for every 40 runs scored, up to a maximum of five.
The decision has become a matter of controversy as Carew find themselves being accused of breaking the so-called 'spirit of cricket'.
Although Carew's tactics were within the rules, such a decision is rare and considered by many to have gone against the true spirit of the game.
Former Glamorgan captains Mark Wallace and Steve James are among those to condemn Carew's decision.
What the clubs say
Cresselly commented on the situation via their own statement.
"We obviously feel hard done by at not being able to play a proper game to determine the winner of Division One," they said.
"Having beaten Carew in the league and village cup we felt confident we could do it.
"On the toss, our captain elected to field as we felt it was the best way of winning the game with such a tight margin.
"Thinking that Carew would want to beat us the right way and show everyone they are indeed the very best, their choice to declare and deliberately lose was at odds with their title of champions of the county.
"Some people have asked if we think 'deliberately losing' is match fixing and if we wanted to go down that road. We will leave that up to Pembroke County Cricket Club to decide.
"We are very disappointed but we want to move on."
A Carew statement read at the time: "In consequence of the coverage of this matter in some sections of the media, we, as a club, have decided not to comment further. We stand together."