Giro d'Italia: Welsh Government in talks to host Grand Tour cycling race stage
Last updated on .From the section Wales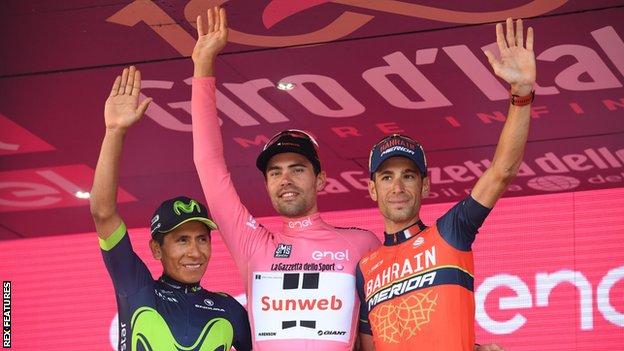 Wales could host a Giro d'Italia stage after "positive discussions" between the Welsh Government and owners RCS.
A Welsh Government spokesperson told BBC Sport Wales: "We are continuing the very positive discussions with RCS about hosting the Giro d'Italia.
"This visit was an excellent opportunity to showcase Wales, to start building relationships."
The Welsh Government has long been keen to bring a Grand Tour event - the Giro, Tour de France or Vuelta a Espana - to Wales.
Economy Minister Ken Skates revealed in June 2017 that initial talks had been held with Tour de France organisers.
Welsh cyclist Geraint Thomas, who has helped Team Sky leader Chris Froome secure four Tour victories, is also keen to see French cycling's Blue Riband event come to Wales.
But there are no opportunities with the Tour in the immediate future and the Giro has now emerged as the leading contender of the three major multi-stage road races to come to Wales.
"We have made clear our ambition to host a future Grand Tour event," the Welsh Government spokesperson said.
"In recent years we have made contact with the owners of all three events and have been keen to explore options.
"The ASO, the organisers of the Tour de France, have advised that there are no short-term opportunities for Wales to host a Grand Depart of the Tour de France."
The Giro takes place mainly in Italy but has often held stages in other countries, especially neighbouring San Marino, France, Monaco, Switzerland, Austria, Croatia and Slovenia.
But RCS has been happy to go further afield, with the 2018 race set to start in Israel while the Netherlands, Belgium, Germany, Greece and Denmark have also held stages.
In 2014, Belfast hosted the first two stages, and the Giro continued from Armagh to Dublin in stage three before heading on to Italy.
The Yorkshire bid spent more than £10m in bringing the opening two stages of the Tour de France in 2014, while in the same year Belfast spent around a third of that figure for the privilege of bringing the Giro d'Italia to Northern Ireland.