UFC: Brett Johns anticipates his Las Vegas dream fight
Last updated on .From the section Wales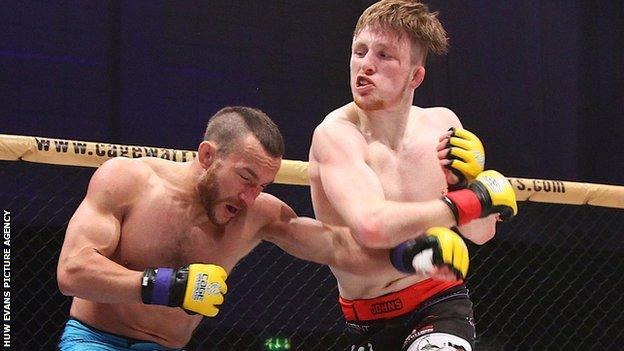 Welshman Brett Johns says fighting in Las Vegas is a "dream come true" ahead of his third UFC bout.
Johns, from Swansea, faces American Joe Soto on Saturday, 1 December, and says he wants to emulate his idol Joe Calzaghe by winning in the "boxing capital of the world".
Bantamweight Johns is unbeaten since signing with UFC after victories over Kwan Ho Kwak and Albert Morales.
"It was a dream of mine to fight in Vegas," Johns told BBC Wales Sport.
"I'm one of those guys who really wants to fight there."
"When I started this game I didn't think it would reach this stage. It's just like a bit of a hobby that's gone over the top."
Fellow Welshman Calzaghe made the last two appearances of his unbeaten 46-bout boxing career in America, beating Bernard Hopkins in Las Vegas and Roy Jones Junior in New York's Madison Square Garden.
John, 25, says he wants to emulate Calzaghe by becoming a world champion in his chosen sport.
"I'm one of those who wants to follow in the same footsteps as one of my boxing idols, Joe Calzaghe," said Johns.
"He fought in Las Vegas and he also had a fight in Madison Square Garden which is something I'm also eyeing up.
"I'm heading towards that [world championship] gold belt and I'd put my life on the line for it.
"I've made a lot of sacrifices to get where I am and there'll be a lot more sacrifices too.
"I'm willing to take those steps to be the best and consider myself to be one of the best out there.
"I just need to pull off the results now and make sure I keep getting the wins and keep that undefeated record.
"It's not an easy task to win in UFC. You've got to be special to win your fights and I've got a chance to go three and 0.
"I wouldn't be in this game unless I thought I could win that gold belt."