Mica Moore set sights on Winter Olympic bobsleigh medal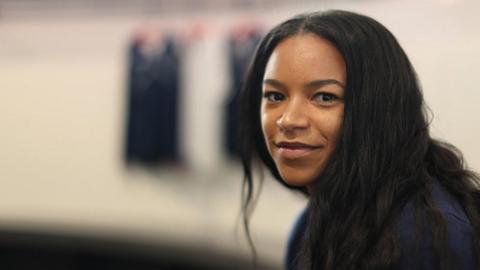 Six months ago Welsh bobsleigh rider Mica Moore's Winter Olympic dream was dealt a huge blow when her sport's governing body withdrew its funding.
Fast forward to Pyeongchang, the 24-year-old from Newport is setting her sights on a medal after she and pilot Mica McNeill set a series of impressive training times.
They were joint-second and third in the final two runs on Monday.
They will hope to retain their form in heat one of the competition on Tuesday.
Welsh champion sprinter Moore and McNeill won the junior Bobsleigh World Championship in Winterberg in January 2017.
But this triumph was followed by the untimely announcement that the British Bobsleigh and Skeleton Association would withdraw funding for the women's team due to overspending.
It said at the time it was focusing its resources on winning medals.
The pair managed to raise £30,000 through public donations to compete in the Bobsleigh and World Cup in Whistler in November, finishing in fifth place, something Moore said "was incredible" and "let us know what we are capable of".
The crowd-funding total has since risen to over £40,000.
Moore told BBC Sport: "Bobsleigh is such a small sport, you don't think people are watching or looking out for your results, but to learn that people are willing to support us and help us on our journey is amazing.
"Bobsleigh is a very expensive sport, to get the sleds places costs a thousand or two thousand every time.
"I don't even know how to thank people... but I'm so grateful because it means I can work towards my dream."
Moore said it felt "amazing" to be in Pyeongchang.
"You do have to pinch yourself because there was a point in time where we felt we are not going to be able to do this," she said.
"I think that at any championship anything can happen.
"It comes down to who performs on the day and me and Mica... what we have been working towards is getting that consistency. I hope we can do really well."
Moore is excited about the prospect of following fellow Welsh competitor Laura Deas into a podium position.
She added: "Obviously there are a couple of Welsh people and for myself as a Welsh woman I love to represent Wales. Whenever I go home people ask me what bobsleigh is like and how they can get into it, so I try to tell as many people about it as possible".